Izunuma and Uchinuma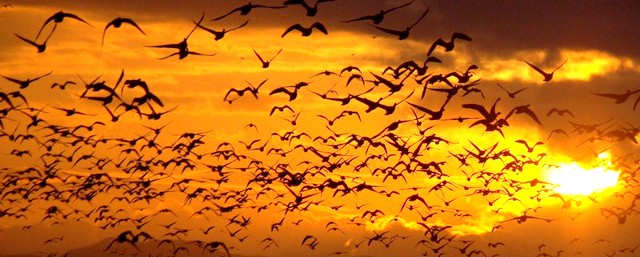 Izunuma and Uchinuma offer one of the great wildlife spectacles of Japan — the dawn and dusk flights of tens of thousands of Greater White-fronted Goose. The setting and the whole experience is comparable with witnessing the massed flights of Hooded Crane and White-naped Crane in Kyushu, the dancing flocks of Red-crowned Crane in east Hokkaido, or the Steller's Eagle and White-tailed Eagle around the sea-ice of the Nemuro Channel.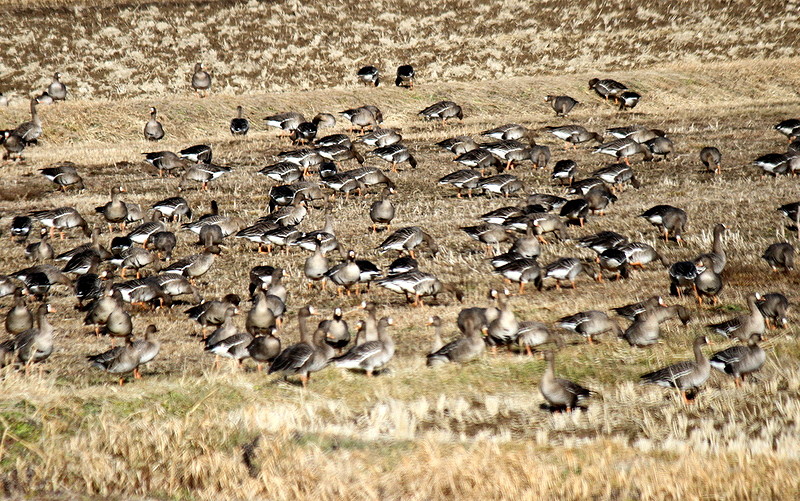 For anyone who likes geese, swans or ducks, Izunuma and the surrounding lakes, northwest of Sendai, in Miyagi Prefecture, is one of the best possible places in Japan to visit during the winter months. Put it on your bucket list!
"Numa" by the way means pond or lagoon, so in English these are Izu and Uchi lagoons, or Izunuma or Uchinuma.
With so many birds in the area, staying nearby for a night or even two is strongly recommended, as there is a lot to see.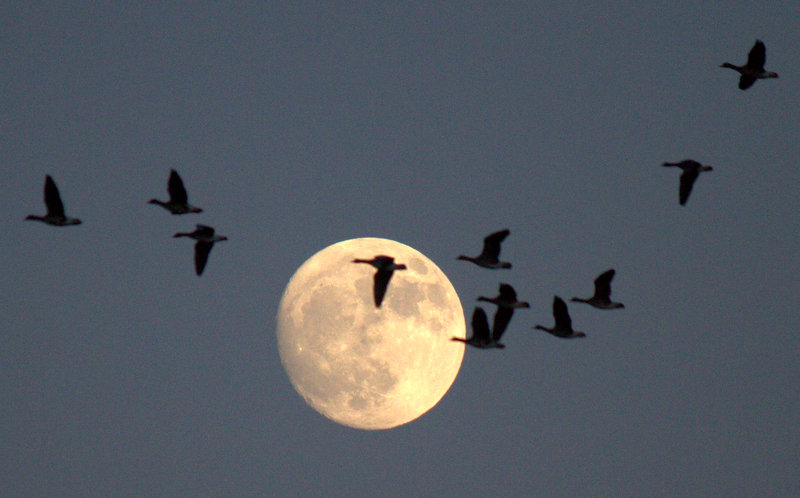 Beginning near Nitta, near the east end of Izunuma, you can make a loop around Izunuma and take in Uchinuma all in a day's birding. The lake is about a 15-minute walk from Nitta making it a good starting point. Cross over the railway tracks and on the right side is a parking area and the old viewing centre, here you can go up onto the roof and look across the lake.
The small pond beside the car park is a favourite haunt of Whooper Swan and Northern Pintail which congregate to be fed by visitors — offered for sale by a local entrepreneur at the hut for ¥100 a bag!
There are toilets at the sanctuary centre, and portable toilets also at both the north and south ends of Kabukurinuma. All nearby convenience stores also have toilets.
From the car park/viewing centre, walk in a westerly direction. Follow the road that skirts around the southeast shore of the lake. There is not much traffic on the narrow road which passes farmland, rice paddies, reedy areas and copses, all great habitat for wintering birds, and with views out over the lake in several areas.
In the reedbeds small birds such as various buntings (Reed Bunting, Rustic Bunting, Meadow Bunting and Masked Bunting) and finches (Oriental Greenfinch, Brambling, Eurasian Siskin, Long-tailed Rosefinch) may be encountered.
Japanese Green Pheasant is in the area, and Brown-cheeked Rail can be heard or sometimes seen along the wet ditches or streams.
Near Izunuma, a couple of kilometres directly south of the western end, is Uchinuma. This has the same species of waterfowl as Izunuma, and there a large number of Bean Goose roosts there. It's also a good place for Smew.
During the winter months, with so many ducks around, the area is a good hunting place for raptors. One or two White-tailed Eagle can be seen, and occasionally a Steller's Eagle visits. Other birds of prey include Eastern Buzzard, Northern Goshawk, Eurasian Sparrowhawk, Eastern Marsh Harrier and Hen Harrier (the latter two species especially at Kabukurinuma). Merlin can be seen zipping at high speed across the farmland, and Eurasian Kestrel sometimes hunt along the roadsides. And, almost wherever you go, you will see Black-eared Kite soaring overhead. Golden Eagle has been reported at Kabukurinuma, which may involve immature birds wandering from mountainous areas further north.
Recommended sites:
1) Visit the very western end of Izunuma at dawn to witness the exodus of tens of thousands of Greater White-fronted Goose as they take off from their roost on the lake and head off to their feeding grounds in the nearby rice paddies
2) Just before dusk, visit the south side of Kabukurinuma to watch thousands of geese (mostly Greater White-fronted Goose) return to roost.
At the very west end of Izunuma is a stretch of road about 200 m long running along the top of a raised bank. The bridge at the south end of this road is blocked, so there is no exit. At the entrance there is a small wooden bus shelter on the opposite side of the road. This short stretch of road is best for photographers wishing to take images of the geese taking off at sunrise.
The sight and sound of these spectacles is breathtaking and something that you will not forget.
During mid-winter it can be very cold while waiting for the geese to wake — temperatures may fall to -5° C or even -10° C — so warm clothes are essential.
Accommodation:
About a 15-minute drive from the west end of Izunuma is Kurikoma-kogen Station, and next to the station is a small hot-spring business hotel called Epoca21, Tel. 0228-23-0021, http://epoca21.co.jp/. Breakfast here is included in the price and the hotel has a restaurant open for dinner.
Transportation:
Shinkansen (Bullet) trains on the Tohoku Shinkansen Line travel between Tokyo and Sendai (and further north) in about two hours. Kurikoma-kogen Station is a convenient point at which to get off. Eki Rent-a-Car and Nippon Rent-a-Car have offices at the station. Reservations are needed.
Nippon Rent-a-Car English Service Desk: 09:00–17:00. Tel: +81-3-6859-6234 (from outside Japan), or Tel: 03-6859-6234
There is a large shopping centre with a supermarket and food court just five minutes away on foot on the west side of Kurikoma-kogen Station.
Nitta Station is on the Tohoku-honsen (the main line north from Sendai). From the station walk north along Nitta's main street and turn left at the first junction — there is a parking area, shops, convenience stores and restaurants along the way.
At lunchtime, Kunperu (Tel: 0220-28-3131) serves locally produced sausages and hamburgers (and other food) and is a good place to hang out and warm up at lunchtime on a cold day (of which there are many during the winter).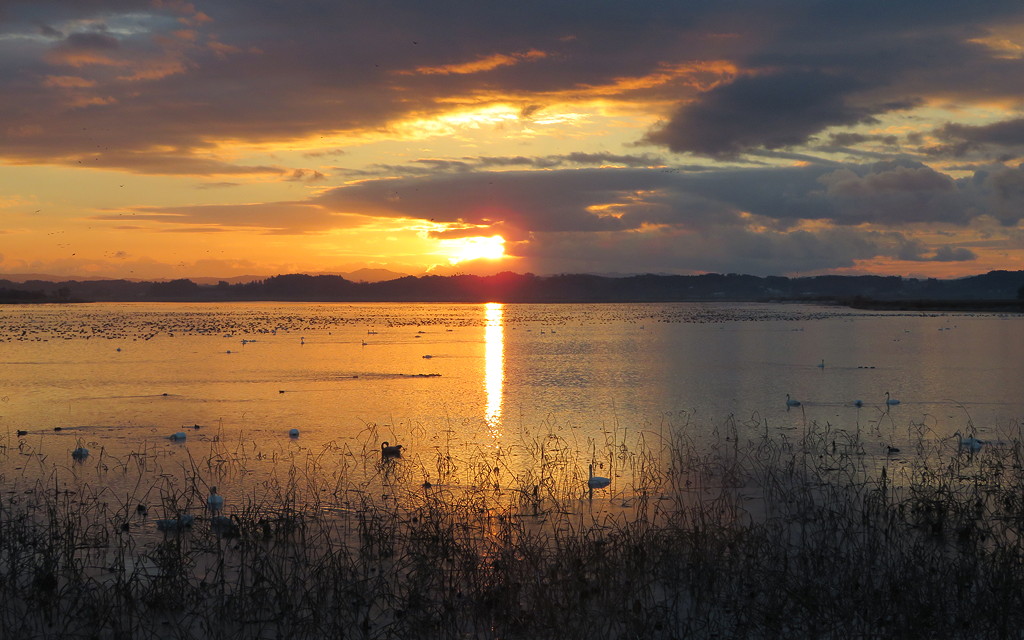 ---
© 2020 Mark Brazil & Chris Cook
Last updated: 20200521