Chiba and Ibaraki Prefectures
---
Choshi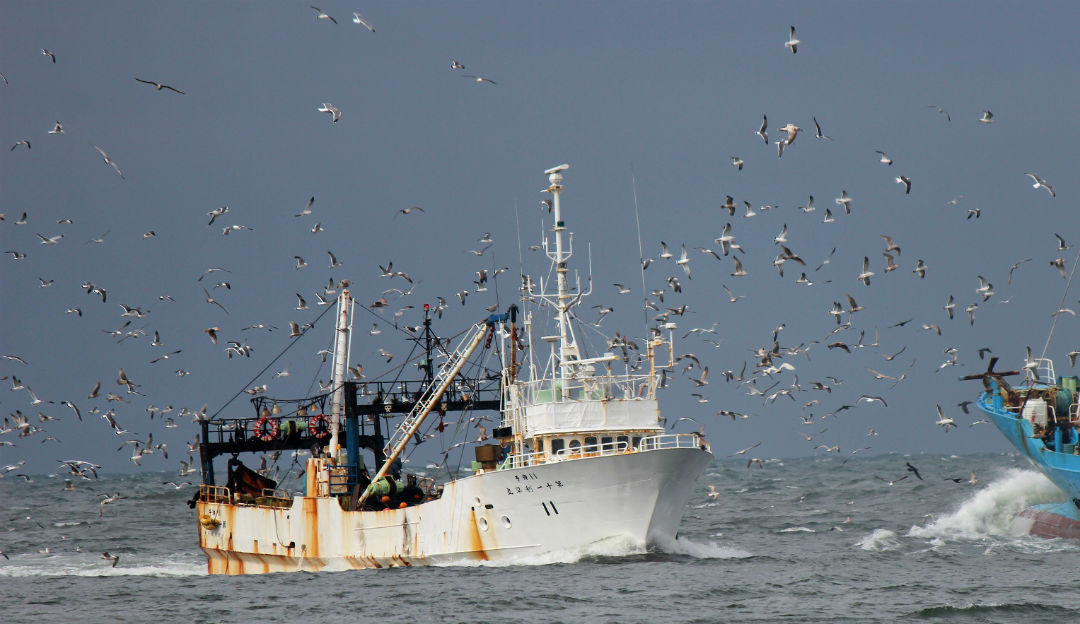 For gull aficionados, Choshi, a large and often busy fishing port on the Pacific coast of Chiba Prefecture, is heaven! There, thousands of gulls of up to about 10 species, in all age ranges and in every imaginable plumage variation, can be seen. This large port is a major centre for Japanese fishing boats operating out in the Pacific and large trawlers, as well as the local fishing fleet, come in to offload their catches at different times of the day.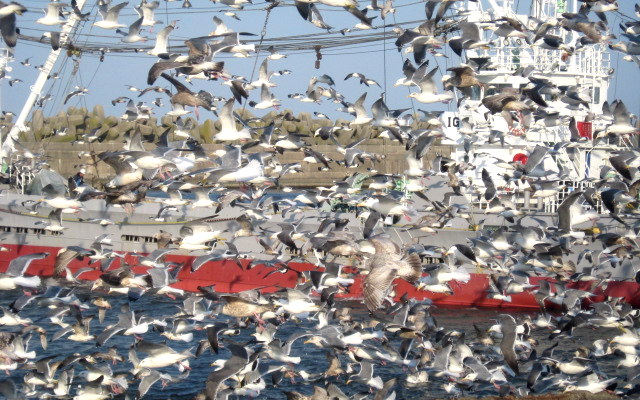 During the late winter months, there are often tens of thousands of gulls in the area, and it is well worth spending a day or even two checking out exactly what is there. Mostly these are: Slaty-backed Gull, Vega Gull and Black-tailed Gull, but if you look closely, there is always a good (often high) chance of finding something unusual among the flocks loafing on the concrete breakwaters.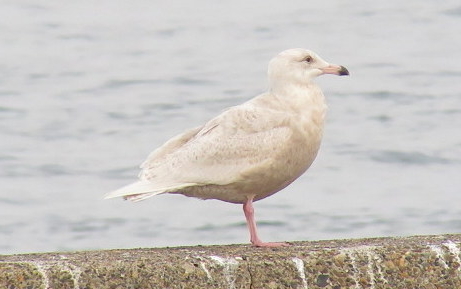 Small numbers of Glaucous Gull, Glaucous-winged Gull and Kamchatka (Common) Gull are regular, as is Black-legged Kittiwake. Each winter Thayer's Gull puts in an appearance, and rarities have included American Herring Gull, Iceland Gull and Red-legged Kittiwake.
January/February/March are the peak months for the gulls, but these are not the only birds to be seen here.
Offshore during the summer large numbers of Streaked Shearwater can be seen, and also, during the late summer, huge numbers of Short-tailed Shearwater pass by as they head northward on their Pacific migration.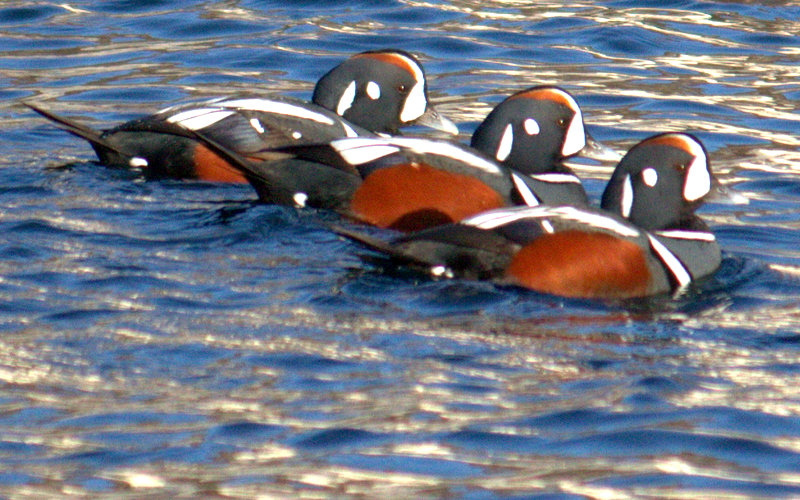 In the harbours and on the Tone River, various ducks and grebes are present during the winter months: Harlequin Duck, Black Scoter and Siberian Scoter, plus four species of grebe: Great Crested, Red-necked and Black-necked, and Little.
In stormy weather check for divers: Pacific Loon, Red-throated Loon and Black-throated Loon might come in, and once, a summer-plumaged Yellow-billed Loon spent some time at Hasaki fishing port. Fork-tailed Storm Petrel also sometimes takes refuge in the harbours or on the river.
During the late summer, when typhoons blow up from the Pacific, Magnificent Frigatebird occasionally appears.
In days gone by, Choshi used to be a site for Rock Sandpipers but there have been no records in recent years.
Access:
From Shinjuku or Tokyo stations there is a Sobu Main Line express train (Shiosai) which takes about 2.5 hours. From Yokohama/Shinagawa stations take the Yokosuka line train to Chiba, and change to the Choshi-bound local train. A stop-at-every-station train on the Narita Line also departs from Narita Station.
There is also a Keisei express bus from Hamamatsucho bus terminal (WTC Bldg.) in central Tokyo or from the Yaesu entrance bus terminal at Tokyo Station. Reservations required.
In Choshi there are two car rental options: One is Eki Rent-a-Car at the station, and the other is nearby Nico-Nico car rental. Advance booking is recommended – at Nico-Nico Rent-a-Car you can rent a small car for up to 12 hours for less than 3,000 yen.
Nico-Nico Choshi office: 0479-20-5151 (or, free dial, 0120-32-2525) – both in Japanese.
There is a tourist information office right at Choshi Station (Tel: 0479-22-1544)
Other options while visiting Choshi include:
1) Visiting Hasaki fishing port (on the north side of the Tone River/via Choshi Ohashi) for seabirds/seaducks, more gulls and Temminck's Cormorant. In bad weather look for divers or Ancient Murrelet taking refuge inside on calmer water.
2) At nearby Choshi Marina, in Shiomi-cho, the Choshi Ocean Institute offers minipelagics at certain times of the year. Although mostly for whales or dolphins, it is of course possible to see some seabirds as well. The whale-watching cruise goes up to 40 km out into the Pacific – certainly far enough to get albatrosses and probably petrels. The boat will go out only in calm weather and if a certain number of people have made a booking.
Mammals that can be seen at different times of the year from the boat include: Pacific White-sided Dolphin, Bottle-nosed Dolphin, Striped Dolphin and Risso's dolphin, Finless Porpoise and Short-finned Pilot Whale and Sperm Whale. Northern Fur Seal can be seen during February and March, and the 5-hour whale-watching tour operates from November until January.
www.choshi-iruka-watching.co.jp
Tel.: 0479-24-8870 (in Japanese)
---
Two species near Narita Airport – Marsh Grassbird (Japanese Marsh Warbler) and Japanese Reed Bunting (Ochre-rumped Bunting) are, in the spring and early summer, easy to see in suitable habitat.

One place is Ukishima, on the southeast side of Lake Kasumigaura in Ibaraki Prefecture, and the other site is along the Tone River near Sasagawa in Chiba Prefecture.
Ukishima
To get to the Ukishima site, a vehicle is needed because, in this rural area, there are no buses or trains. The nearest station is Sawara on the Narita line from Narita station, quite some distance away. Taxis will be available from outside the station.
Sasagawa
For those who do not have access to a vehicle, an easier way is to go to Sasagawa Station and walk to the Tone River. Use the Narita line from Narita Station, and take a train going in the direction of Choshi. It will take about 45 minutes from Narita Station to Sasagawa Station.

From Sasagawa Station, walk out of the exit and go straight for about 15-20 minutes, in a northerly direction (209 to Route 356, which goes east-west, then 266 to the Kurobe River) until you get to the river bank. Here, just after a cement factory on the left hand side, 266 crosses the Kurobe River, makes a sharp left turn, and goes into another section of 356. At this bend the wide Tone River is directly in front of you. To your right is an inlet with several small pleasure boats and a concrete lock gate.
From this corner, going east and over the lock which connects the Tone River inlet to the narrow Kurobe River, is a road at a higher elevation than the rice paddies on the right and the reeds and Tone River on the left (the road is built on the raised embankment on the south side of the river).
Walk along this road (going downstream, in the direction of Choshi) for a couple of kilometers, until you come to a rest area with a shelter and wooden viewing area. Marsh Grassbirds are quite common all along the side of the river, and in April and May the males can be seen making their display flights above the reeds before dropping back down.

There are also several pairs of Japanese Reed Bunting along the way, and other species include Oriental Reed Warbler, Zitting Cisticola, Black-faced Bunting, and Meadow Bunting, as well as Great White, Intermediate and Little Egret. Waders such as Whimbrel, Ruddy Turnstone, and Grey-tailed Tattler can be found in the rice paddies as they migrate north during April and May, and there are probably Greater Painted Snipe there, too.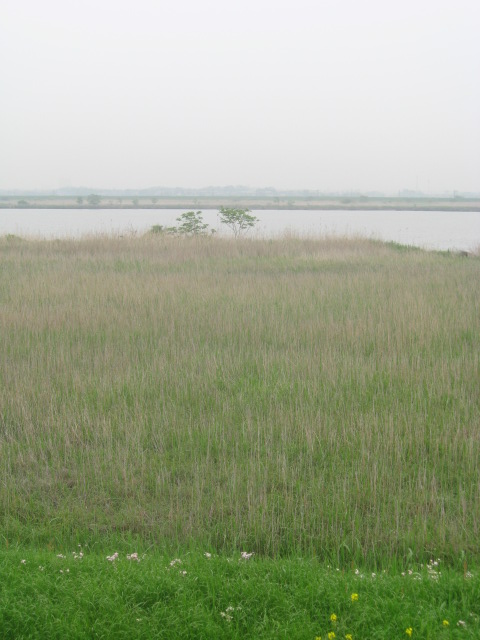 To come back to Sasagawa Station, retrace your steps to the corner at Route 209, and turn left, and walk straight back to the station. If you have time, walk upstream for another couple of kilometers, into Katori town, and from ther e back to Omigawa Station, also on the Narita line, and back to Narita City.
As an alternative, after crossing the bridge over the Kurobe River turn left onto the paved cycling/walking path and scan reed beds and fields in that area for both Marsh Grassbird and Japanese Reed Bunting (Google Map co-ordinates: 35.850031,140.65886).
© 2019 Mark Brazil & Chris Cook
Last updated: 20190117