Chiba Prefecture
Choshi Port & Hasaki Port

Hinode

Inbanuma

Kaihin Park

Motono

Sanbanze

Teganuma

Yatsu-higata
---
Choshi Port 銚子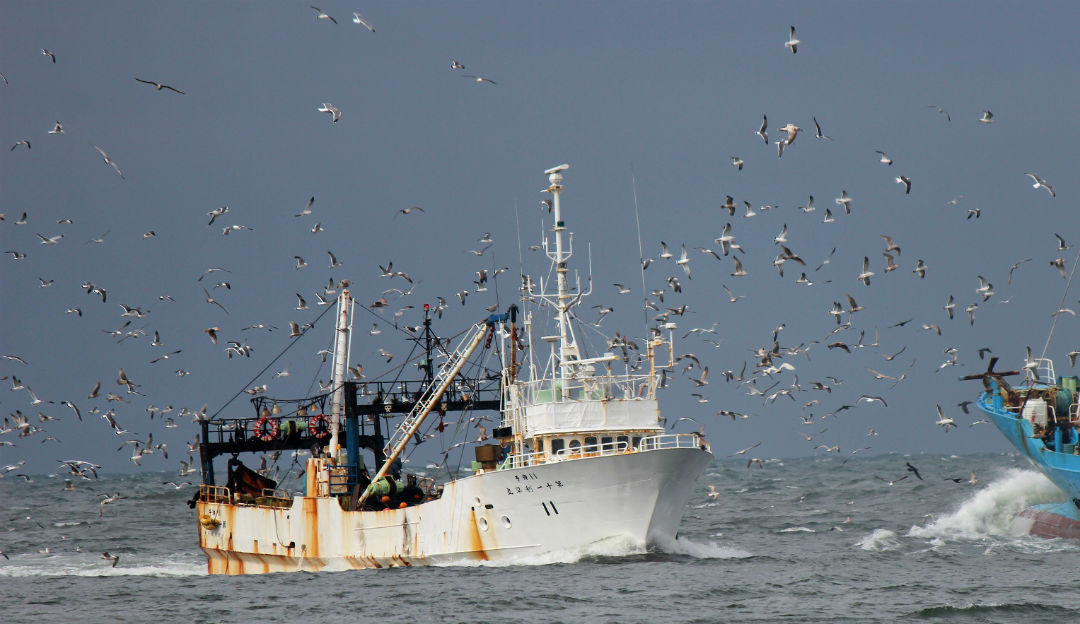 For gull aficionados, Choshi, a large and often busy fishing port on the Pacific coast of Chiba Prefecture, is heaven! There, thousands of gulls can be seen. There are often up to 10 species present, of all ages and in every imaginable plumage.
This large port is a major centre for Japanese fishing boats operating out in the Pacific and large trawlers, as well as the local fishing fleet, come in to offload their catches at different times of the day.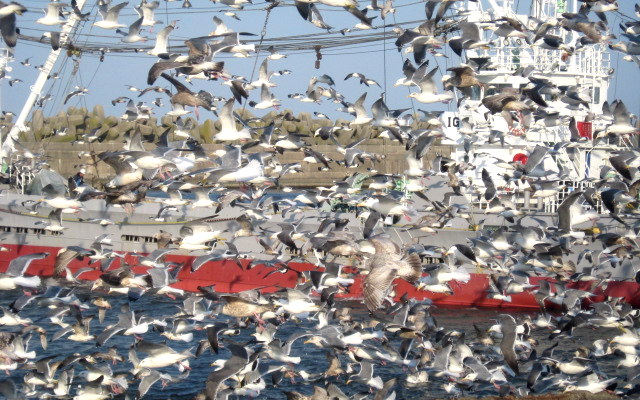 During the late winter months, there are often tens of thousands of gulls in the area, and it is well worth spending a day or even two checking out exactly what is there.
The gulls are mostly Slaty-backed Gull, Vega Gull and Black-tailed Gull, but if you look closely, there is always a good (often high) chance of finding something unusual among the flocks loafing on the concrete breakwaters or feeding in the harbours.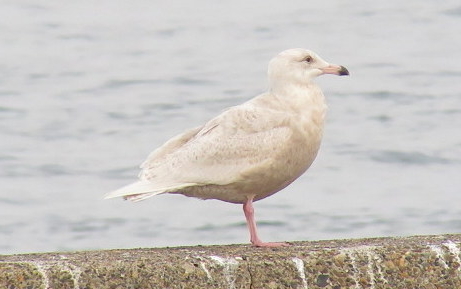 Small numbers of Glaucous Gull, Glaucous-winged Gull and Kamchatka (Common) Gull are regular, as is Black-legged Kittiwake.
Each winter Thayer's Gull puts in an appearance, and if you know what you are looking for, it is entirely possible to find a Taimyr Gull, a Mongolian Gull, a Heuglin's Gull or some other unusual species from the assembled flocks. Rare gulls have included American Herring Gull, Ring-billed Gull, Iceland Gull and Red-legged Kittiwake.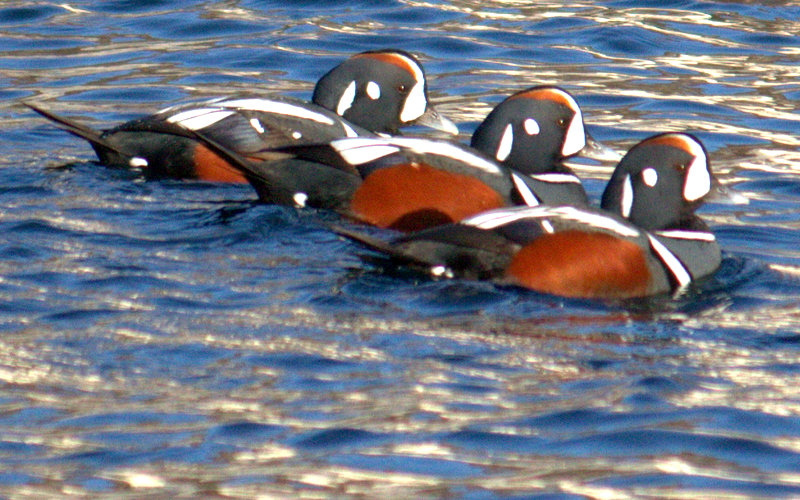 January, February and March are the peak months for gulls here, with numbers depending mostly on how much activity there is from the fishing fleet. However, gulls are not the only birds to be seen here.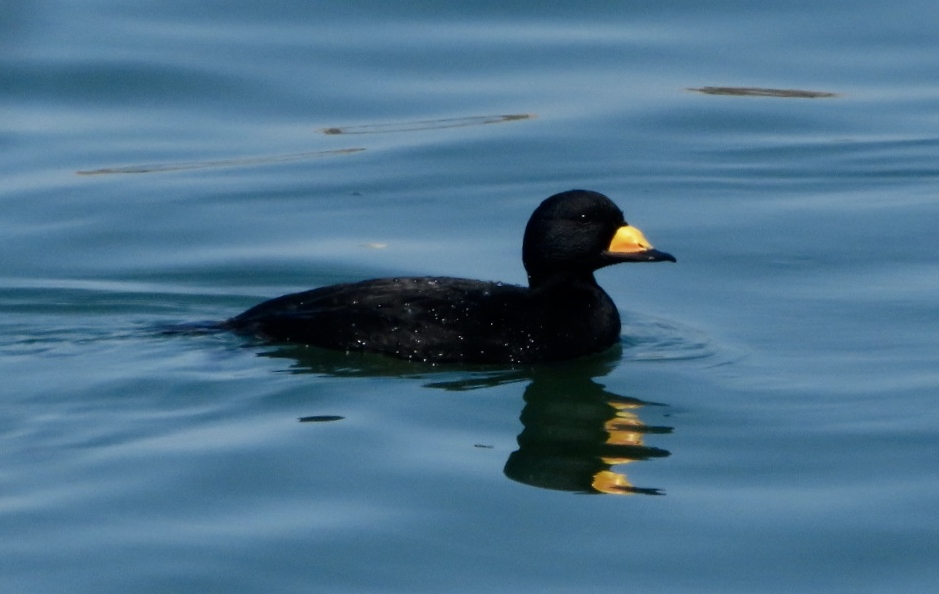 During winter, in the harbours and on the Tone River various ducks including Harlequin Duck, Black Scoter and Stejneger's (Siberian) Scoter are commonly present along with Great Crested Grebe, Red-necked Grebe, Black-necked Grebe, and Little Grebe.
During summer, large numbers of Streaked Shearwater can be seen offshore, and, during late summer, huge numbers of Short-tailed Shearwater pass by as they head northward on their migration from the South Pacific to the Bering Sea.
During or after stormy weather look for divers/loons: Pacific Loon, Red-throated Loon and Black-throated Loon sometimes come in close, and the much rarer Yellow-billed Loon has also been reported at Hasaki fishing port. Fork-tailed Storm Petrel also sometimes takes refuge in the harbours or on the river.
During the late summer, when typhoons blow up from the Pacific, Magnificent Frigatebird occasionally appears, and once, a Bridled Tern was found there.
In days gone by, Choshi used to be a site for Rock Sandpiper but there seem to have been no records in recent years.
Access: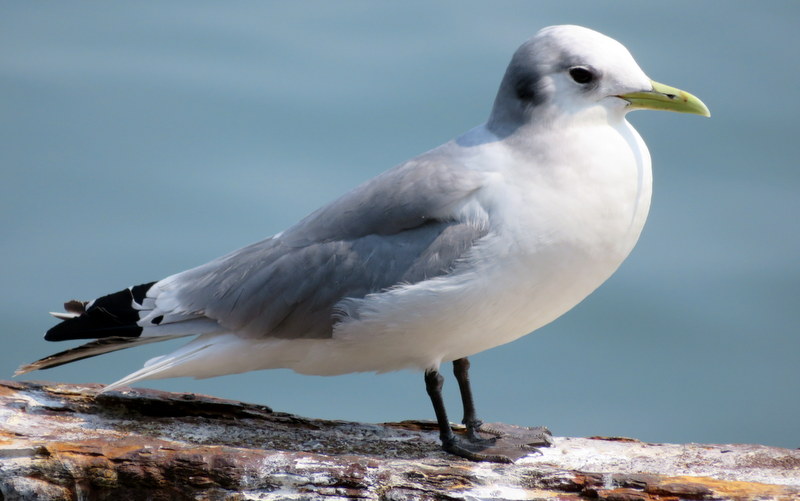 From Shinjuku or Tokyo stations Sobu Main Line express trains (Shiosai) take about 2.5 hours. From Yokohama or Shinagawa stations take the Yokosuka line train to Chiba, and change to the Choshi-bound local train. A 'stop-at-every-station' train on the Narita Line also departs from Narita Station.
There is also a Keisei express bus from Hamamatsucho bus terminal (WTC Bldg.) in central Tokyo or from the Yaesu entrance bus terminal at Tokyo Station. Reservations are required.
In Choshi there are two car rental options: Eki Rent-a-Car is located at the station, and Nico-Nico car rental is situated nearby. Advance booking is recommended – at Nico-Nico Rent-a-Car you can rent a small car for up to 12 hours for less than ¥3,000.
Nico-Nico Choshi office: 0479-20-5151 (or, free dial, 0120-32-2525) – both in Japanese.
There is a tourist information office at Choshi Station (Tel: 0479-22-1544).
Other options while visiting Choshi include:
1) Visit Hasaki fishing port (on the north side of the Tone River/via Choshi Ohashi in Ibaraki Prefecture) for seabirds, seaducks, more gulls and Temminck's Cormorant. In bad weather look for divers/loons or Ancient Murrelet taking refuge inside on calmer water.
2) At nearby Choshi Marina, in Shiomi-cho, the Choshi Ocean Institute offers mini-pelagics at certain times of the year. Although mostly for whales or dolphins, it is of course possible to see some seabirds as well. The whale-watching cruise goes up to 40 km out into the Pacific – certainly far enough to find albatrosses and probably petrels. The boat runsonly in calm weather and if a certain number of people have made a booking.
Mammals that can be seen at different times of the year from the boat include: Pacific White-sided Dolphin, Bottle-nosed Dolphin, Striped Dolphin and Risso's dolphin, Finless Porpoise and Short-finned Pilot Whale and Sperm Whale. Northern Fur Seal can be seen during February and March, and the 5-hour whale-watching tour operates from November until January.
Tel: 0479-24-8870 (in Japanese) www.choshi-iruka-watching.co.jp
---
Hinode 千葉県浦安市日の出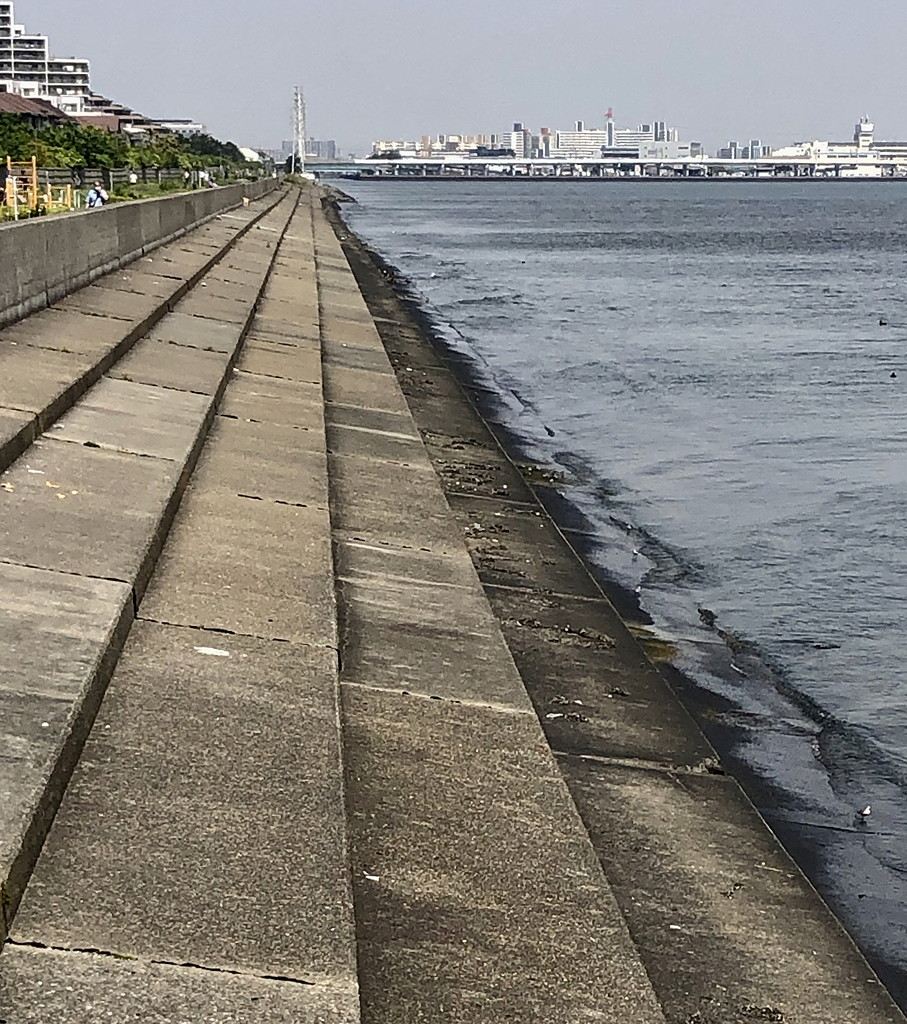 Tokyo Bay has a few prime spots — the last surviving patches of mud around a totally industrialised and developed shoreline — for shorebird-watching during the spring and autumn migration seasons, the best ones being Sanbanze and Yatsu-Higata, which are both in Chiba Prefecture.
Additionally, a few waders also drop in at Tokyo Port Wild Bird Park near Haneda Airport, and with such a network of canals and reclaimed land, there are several other places where a handful of birds drop in to feed before moving on again.
Sanbanze and Yatsu are both good places to be but when the tide is high, the birds disperse to roosting sites and wait until the water recedes again, after which they resume feeding.
When it is high tide at Sanbanze some of the shorebirds either spend time perched atop of netting set up on the mudflats to mark where clam collectors can dig, and some fly a short distance across the water to a roosting area on the concrete sea defences at Hinode, in Urayasu City.
Most of the roosting shorebirds are at the water's edge on the east side of the reclaimed land. From the easternmost point at Hinode, you can walk in a northeasterly direction along the seawall and look down onto the birds as they are resting.

On the southwest side there is a narrow runway and it is here, on the concrete tetrapods right in front of Tokyo Bay Tokyu Hotel, that one or two Wandering Tattler regularly turn up in May. The appearance of this species is actually Hinode's claim to fame!

The commoner shorebirds that can be found there include Whimbrel, Dunlin, Sanderling, Red-necked Stint and Grey-tailed Tattler, but with several other species dropping in at Sanbanze, there is a chance of a few others, too.
Also offshore during the winter period are good numbers of Greater Scaup and Great Crested Grebe, plus smaller numbers of Black-necked Grebe, and a few gulls such as Vega Gull, Slaty-backed Gull, Black-headed Gull and Black-tailed Gull.
During the summer Little Tern occur in the area, and in the trees and bushes, look for migrants at the right time of the year. Azure-winged Magpie are likely around in the shelter belts and in the trees and bushes in the cemetery,
Access:
The area where the shorebirds can be found at high tide is about a 2.5-km walk from Shin-Urayasu Station on the Keiyo Line (the line which goes from Tokyo Station to Maihama (Disneyland) and on to Futamata-Shimachi (get off for Sanbanze) or Minami-Funabashi (get off for Yatsu-higata).
There are car parks in the area, and there are public buses from Shin-Urayasu and Urayasu stations to Hinode 7-chome or Hinode-Minami respectively.
Map: 35.640866, 139.939006
---
Inbanuma 千葉県印旗沼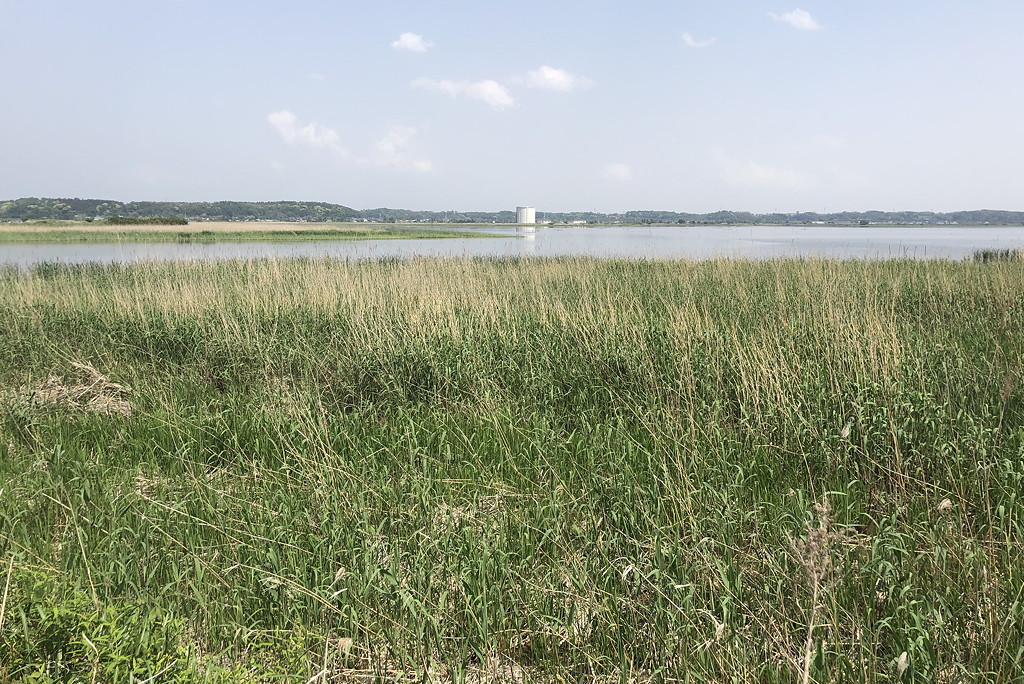 Inbanuma is relatively close Narita International Airport, making this lake a suitable birding spot during a layover between flights. It makes for a pleasant few hours of birding.
During summer (late May and June) both Yellow Bittern and Eurasian Bittern can be seen (the former quite easily, the latter quite often. Map: 35.809371, 140.247699) especially when they have young and are flying out into the rice paddies to search for food for their growing families). Schrenk's Bittern has been seen here, but it is now a very rare bird in Japan.
The large and noisy Oriental Reed Warbler is a common breeding bird (May to July), and singing males are easy to find as they sit atop the tall phragmites reeds which grow along the lakeside.
During winter several species of ducks can be found here, including Falcated Duck, Baikal Teal and Smew. Falcated Duck especially favour the west side of the lake (around where Percy lives) and the Baikal Teal are often along the north shore, taking advantage of the shelter of the reeds to stay out of the wind.
In farmland around the perimeter, look for resident Japanese Green Pheasant, Meadow Bunting, and, during the winter, raptors such as Eastern Buzzard, Eurasian Kestrel and Eurasian Sparrowhawk.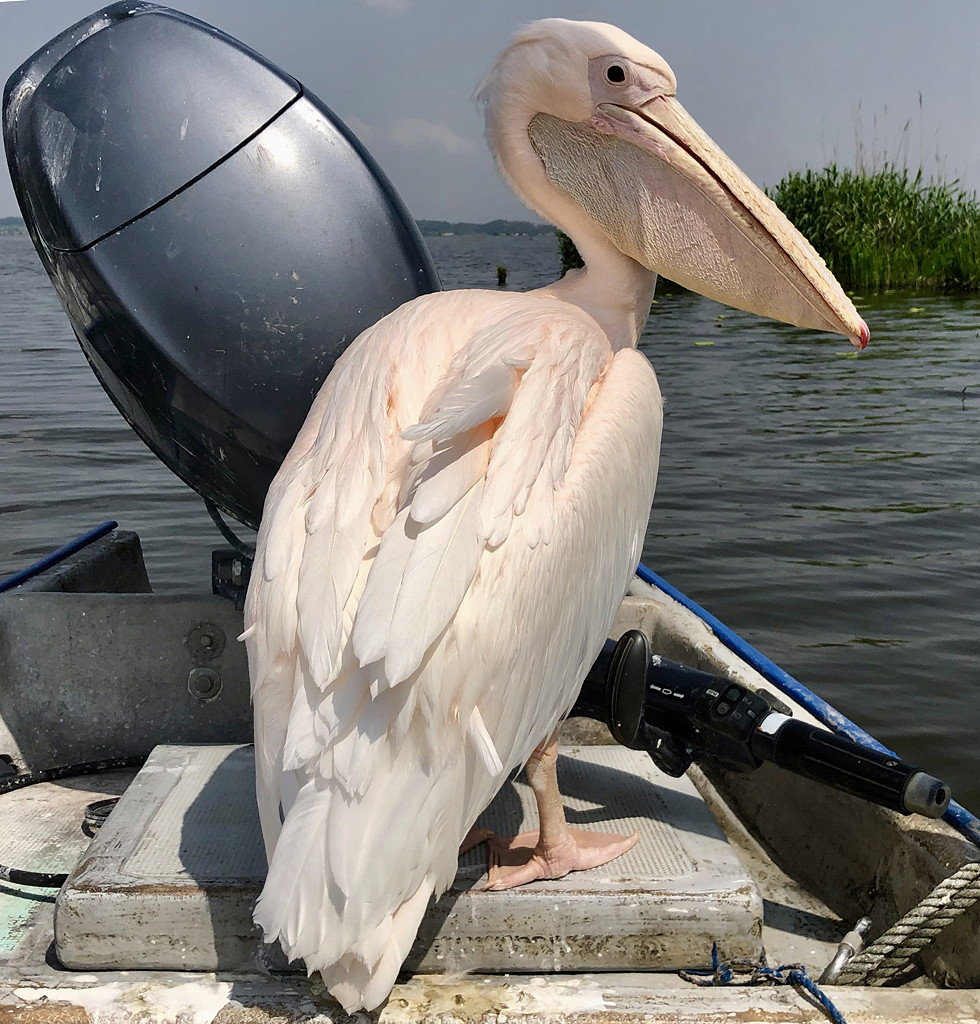 Where there are more extensive areas of reeds, it is possible to encounter Eastern Marsh Harrier during the winter months, and they can sometimes be seen floating over the nearby rice paddies as they hunt for food.
A surprising, well-known bird here is Percy the Great White Pelican (known to Japanese birders as Kanta). A fixture for well over 20 years, it can usually be found at the boatyard on the west side of the lake (Map: 35.801461, 140.232180). Its origins remain unknown, but is likely to have escaped from a collection somewhere. Local fishermen drop by to provide it with a daily lunch!
Access:
From Narita Airport, take a train to JR Narita Station or to Keisei Narita Station. Transfer to a JR Narita Line train (this is a 10-minute walk from Keisei Narita Station, but the same station if you use a JR train) and go to either Ajiki or Shimosa-Manzaki station (about 30 minutes in total). The lake is about a 30-minute walk from either of these stations.
From Tokyo, it is possible to take a Keisei Line train to Imba-Nihon-idai Station and walk for about an hour through the rice paddies to the southwest corner of the lake (to Percy's pad!).
Or, from JR Ueno Station in Tokyo, take a JR Narita Line or Joban Line train to Abiko and change there to JR Narita Line, getting off at Ajiki or Shimosa-Manzaki station. Depending on the time of day, there are sometimes direct trains from Ueno to Ajiki and Shimosa-Manzaki.

No toilet facilities are available at the lake. There is a convenience store at JR Ajiki Station, plus shops at the airport/around Narita station.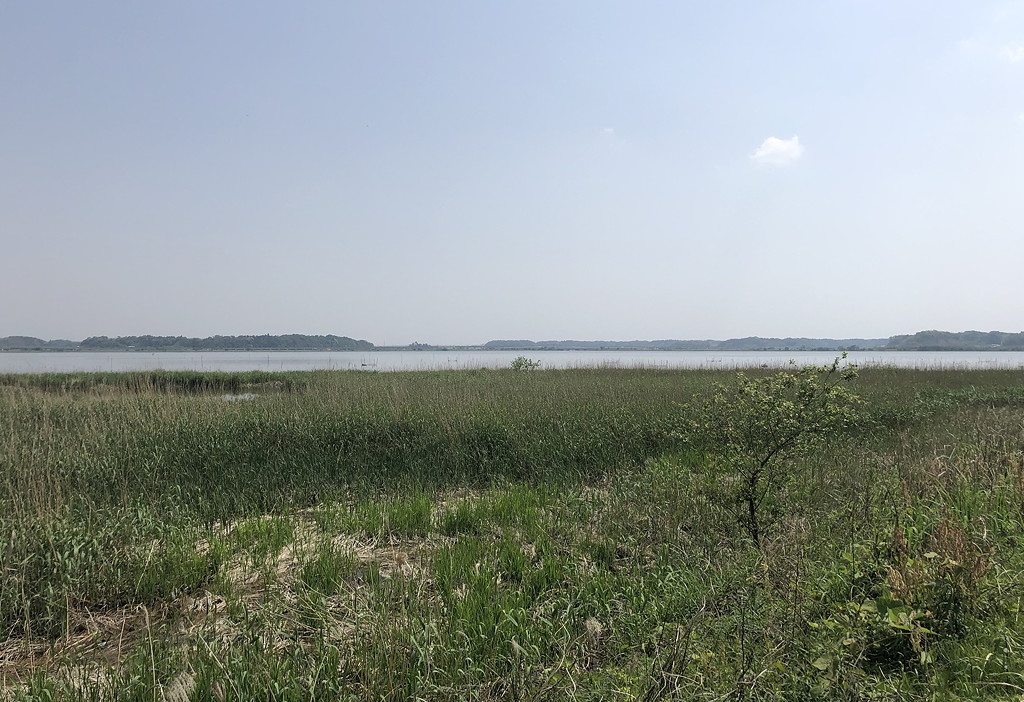 ---
Kaihin Park, Narashino City 習志野市海浜公園
During the winter months the periphery of Tokyo Bay is surprisingly "birdy," and popular destinations for birders or bird photographers are Kasai Rinkai Koen (park) in east Tokyo, and Sanbanze mudflats, in Ichikawa City. At these places large numbers of waterfowl — especially grebes and Greater Scaup — gather just offshore. Scaup numbers are counted in the thousands, and there are often hundreds, if not thousands, too, of Great Crested Grebes, close inshore at Kasai.
Further along the coast is Kaihin Park in Narashino City. This small park is located right next to Narashino Seaside Cemetery. The habitat consists of a few open grassy areas and some bushes and trees. From the east side of the canal which marks the west end of the park, a walkway and cycle path behind the concrete seawall extends for several kilometres and it is from here that you can look out into the bay and see birds offshore.
Several thousand Great Crested Grebes feed and roost in the area, but there is likely to be some interchange with the birds off Kasai Rinkai Koen, which is only a matter of a few kilometres to the west. Likewise for the Greater Scaup; the small numbers at Kaihin Koen are presumably birds which have moved from the main wintering flocks further to the west.
Among the Great Crested Grebes, as many as 200 Red-necked Grebes have been counted. This is a huge concentration for a species that is usually solitary outside the breeding season. Even seeing two or three birds together is cause for comment! In the bay and in the canal, you might also see a few Black-necked Grebes.
A small stream runs into the bay on the east side of the pale-blue coloured garbage and recycling centre (check for Peregrine Falcon and Eurasian Kestrel sitting on the roof or atop the facility's tall chimney) and this is a good spot to check for ducks that are attracted to the food source. Gadwall, Eurasian Wigeon and Eurasian Teal are regular visitors here.
During the summer or autumn look out for Streaked Shearwaters as they often come into the bay after strong southerly winds or typhoons, and during the winter, small flocks of Black Scoter may appear.
Azure-winged Magpies are resident in the area, and in the winter months various thrushes (White's Thrush, Dusky Thrush and Pale Thrush), can be found.
Access: If travelling by train from Tokyo, take a local Keiyo Line train from Tokyo Station or, if travelling from the opposite direction, the same train from Soga or Makuhari, and get off at Shin-Narashino Station. Kaihin Park is about a 30-minute walk to the southeast of Shin-Narashino Station. Alternatively, get off at Kaihimmakuhari Station and walk toward the bay, about 30 minutes, in a southwesterly direction.
There are toilet facilities at the park, and public parking for vehicles is available nearby. There's a big Mr Max shopping mall with restaurants and coffee shops, plus convenience stores, at or next to Shin-Narashino Station.
Map: 35.659739, 140.010093
---
Motono Village 千葉県印西市本埜村白鳥の郷
If you find yourself with some time to spare during a layover at Narita Airport during the winter months the swans at Motono Village are well worth going to see.
Between late November and late February up to 1,000 Bewick's Swan roost in a flooded rice field, and it has become a popular weekend tourist spot for locals.
A handful of Whooper Swan sometimes drop in and a few years ago Motono became famous when a wayward Siberian Crane — a major rarity in eastern Japan — joined the swans and spent most of the winter there. Who knows what might turn up next.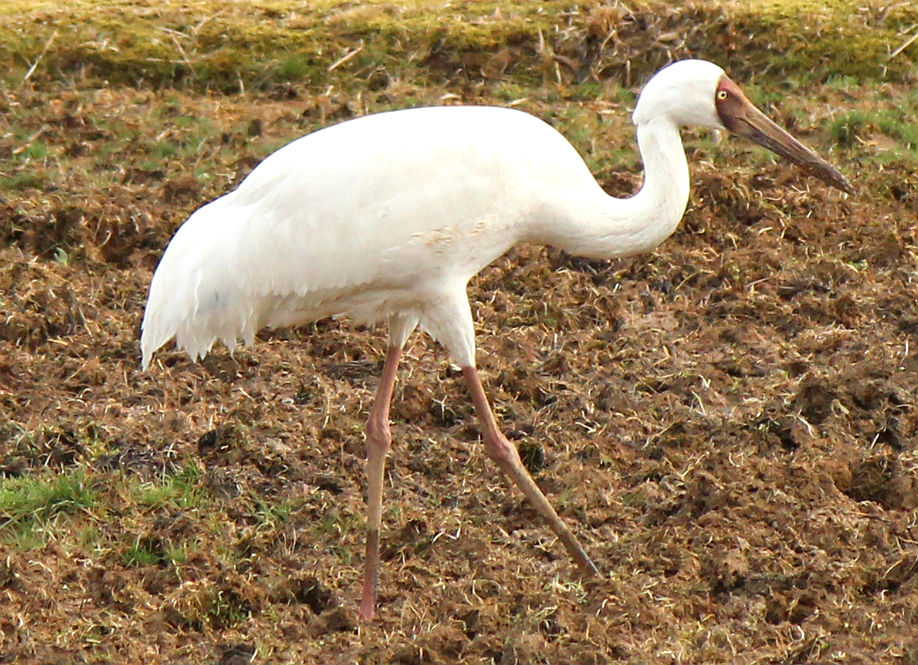 The swans are fed once a day, but during the daytime they spread out and small flocks and family parties can be found feeding in nearby fields. During the middle of the afternoon they gradually return and by dusk several hundred birds can be seen at close range. The same is the case before they fly out from the roost each morning.
The fields in this area also host Eurasian Skylark and Buff-bellied Pipit, as well as Dusky Thrush and White-cheeked Starling. Green Pheasant can often be found here, and there are usually a few raptors such as Black-eared Kite, Eastern Buzzard and Eurasian Kestrel somewhere nearby.
Unusual birds that have been recorded in the area have included Cackling Goose and Baikal Teal. And by checking the swan flock carefully it is often possible to find one or two Whistling Swan, the North American equivalent of Bewick's Swan.
Access:
Local trains on the Narita Line, from either JR Narita or JR Abiko, stop at Kobayashi Station. From there it is about 3.5 km to the site. On foot this will take about 45–60 minutes through the village and rice fields with birding along the way. As there are no convenience stores near the swan site carry any necessary food and drink with you.
If travelling by car, please note that the roads in the area are narrow agricultural roads, so please park sensibly. Temporary toilets are installed during the winter. Postcards, sweet saké, locally grown vegetables and various kinds of kimchi (spicy Korean-style pickles) are on sale.
Map: 35.823119, 140.220718
---
Sanbanze, Funabashi City 三番瀬 千葉県船橋市船橋海浜公園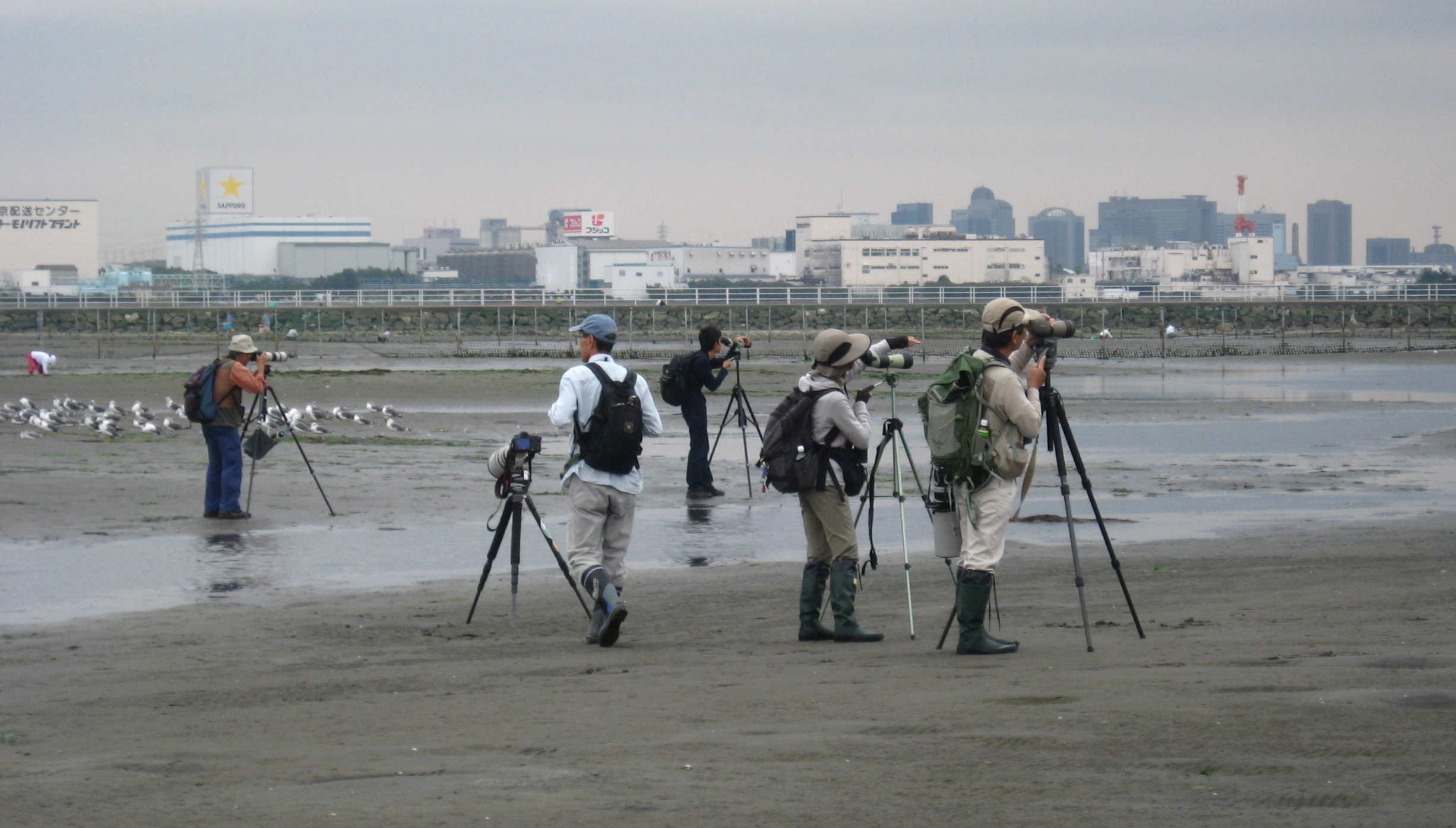 To reach Sanbanze, take the Keiyo line train from Tokyo station and get off at Futamata-shinmachi station (25 minutes by local train), then it is a 30-minute walk to Tokyo Bay. Taxis are available, and there is a bus service nearby. This place is called Funabashi Kaihin Koen in Japanese. Check the tide times before you go — try to arrive about 2 hours before high tide (monthly tide tables are on the Yatsu-higata website).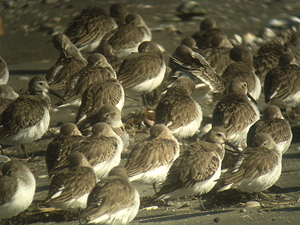 Birds to look for include: waders/shorebirds (including flocks of the eastern race of Oystercatcher), ducks, grebes and sometimes Saunders's Gull in winter.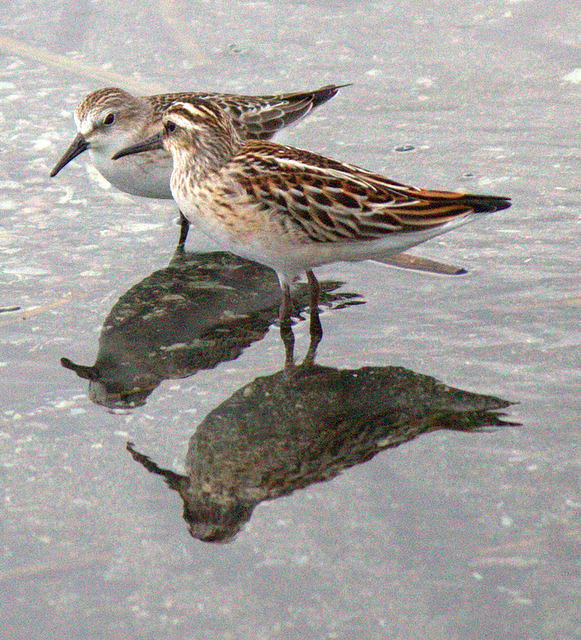 Sanbanze is one of the few places in the Tokyo area where Oystercatcher is regular during the winter months and rarities such as Broad-billed Sandpiper occasionally appear.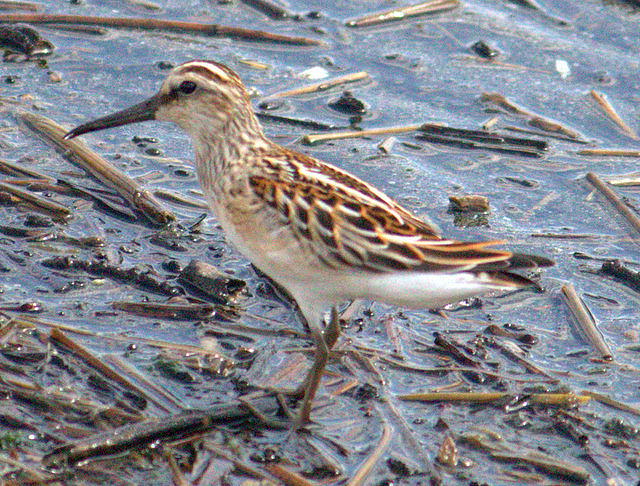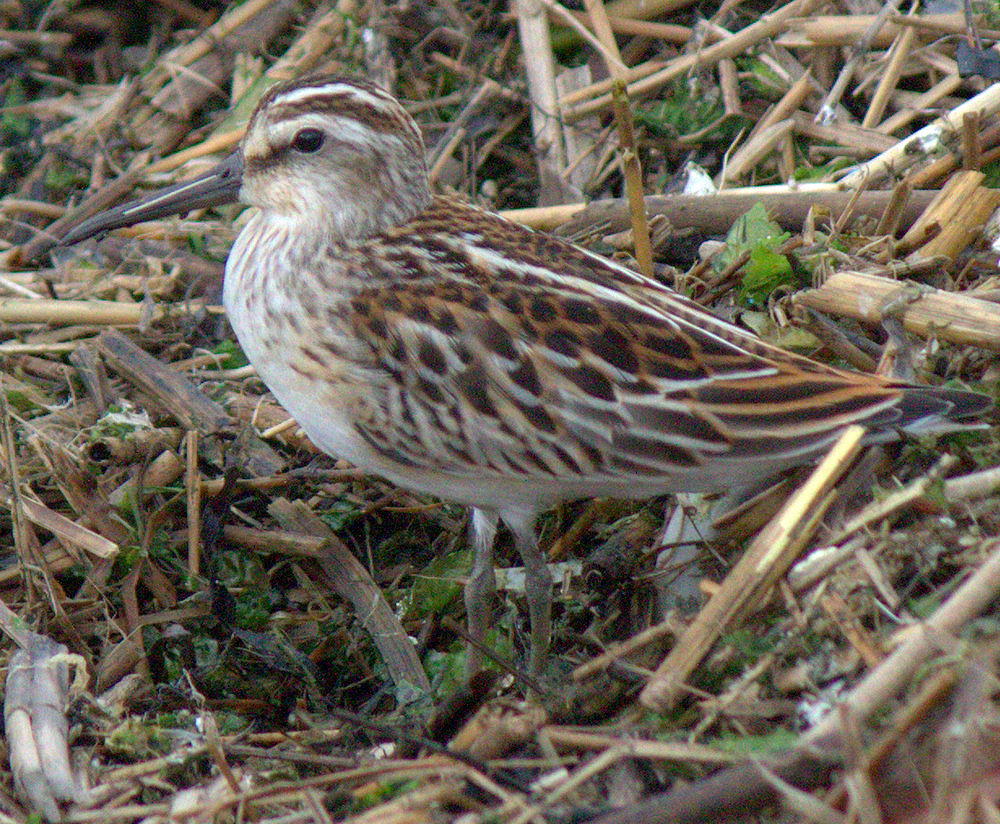 ---
Teganuma, Abiko City 千葉県我孫子市手賀沼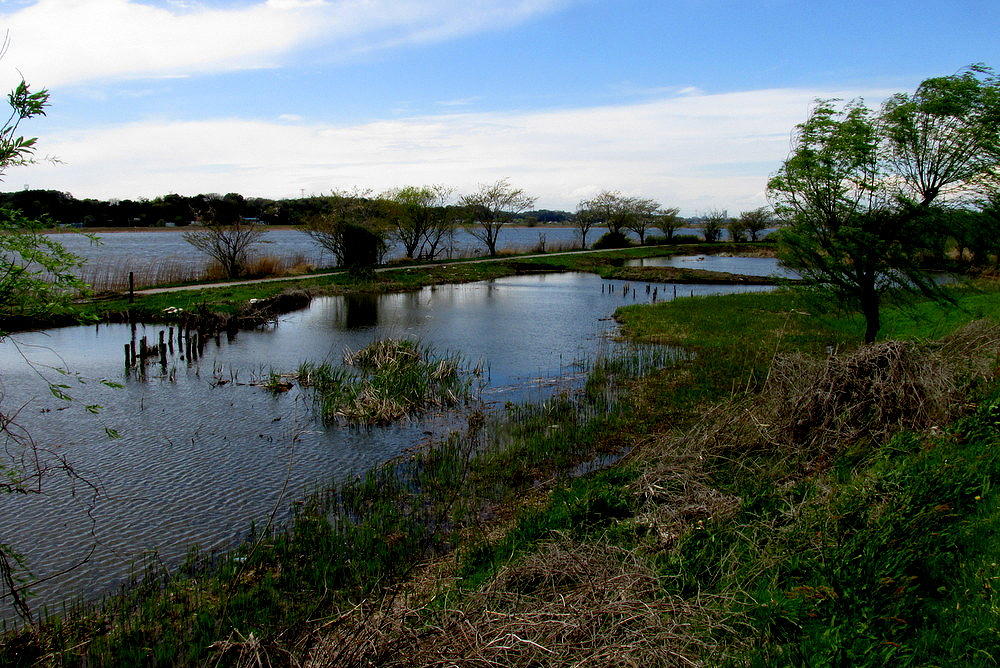 Not so far from Tokyo – half an hour on the Joban Line express train from Ueno Station to Tennodai Station (or Abiko Station), and then a 20-minute walk -- is Teganuma -- a large, shallow lake, which is a good site in winter for wildfowl and farmland birds.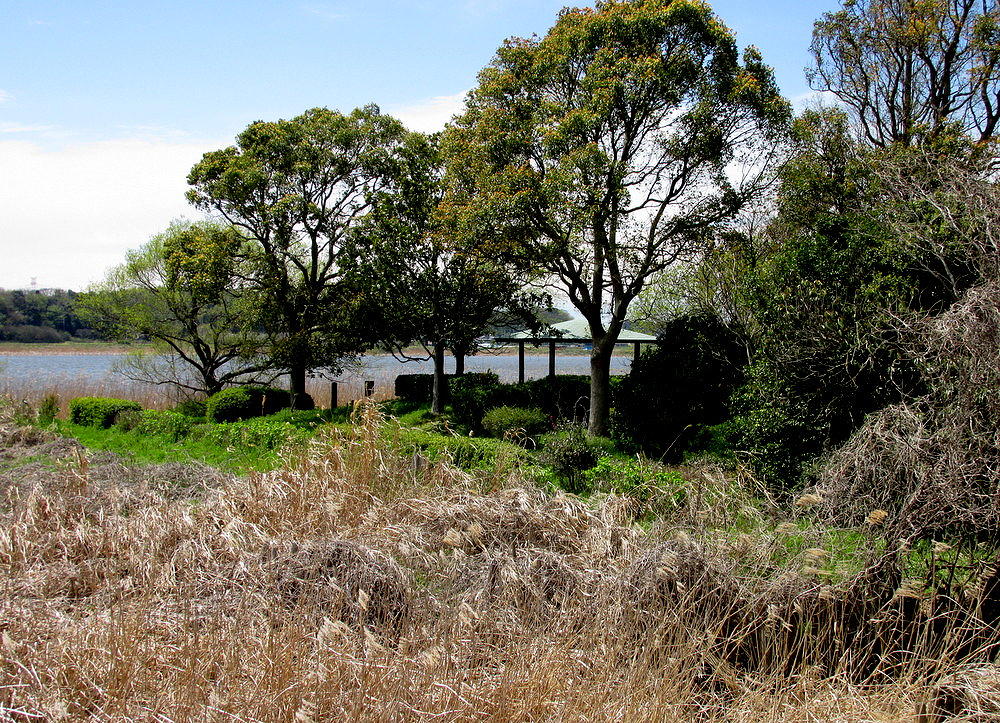 The fields and horticultural areas on the northeast side of the lake attract a variety of bunting and pipits, and Japanese Green Pheasant is resident in the area, too.
During the late winter months, flocks of roving Eastern Rook, sometimes containing one or two attractive Daurian Jackdaw, can be found feeding in the dried-out rice paddies just behind the eastern end of Teganuma.
Growing on the fringes of the lake are small areas of reeds and bullrushes. In summer these are home to Oriental Reed Warbler and Japanese Bush Warbler, and Little Grebe make their nests at the water's edge.
There is also a thriving Mute Swan population breeding at the lake, and in June and July pairs can be seen escorting their cygnets.
These swampy areas offer perfect cover for American Bullfrog and also Red-eared Slider turtles — both introduced species in Japan. The former can often be heard calling in the spring or summer months – a call not to be confused with the booming of a Eurasian Bittern — and both the frog and the turtle haul themselves out and sun themselves on a warm day.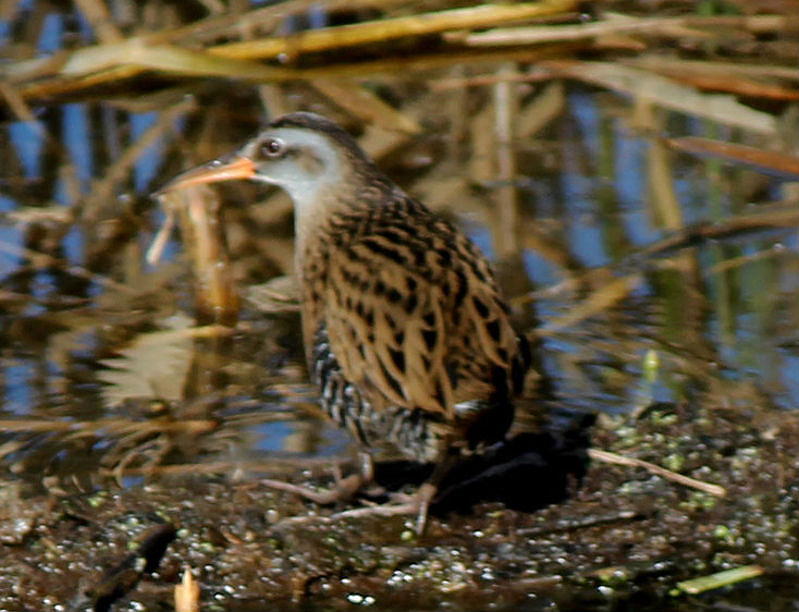 In the winter, this same habitat attracts Common Snipe, Brown-cheeked Rail, Common Reed Bunting, Rustic Bunting, Masked Bunting and Meadow Bunting, and maybe a Ruddy-breasted Crake, Wryneck or a Long-tailed Rosefinch or two. Common Kingfisher can often be seen perched on boats or bamboo poles sticking out of the water.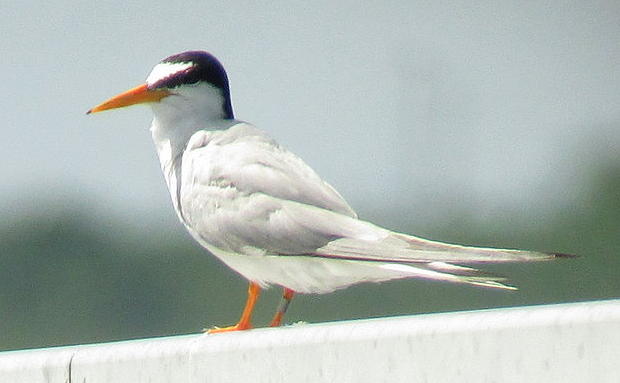 During spring or autumn, and especially around the time of typhoons, this lake is worth checking for marsh terns: Whiskered Tern and White-winged Black Tern are possible, and Common Tern and Little Tern may also be around.
The open habitat means there are often raptors around: Black-eared Kite is never far away, Osprey can be seen fishing or perched on bamboo poles in the lake, and Northern Goshawk, Eastern Marsh Harrier and Eurasian Kestrel are frequently seen in the area during the winter months.
There is a feral population of Mute Swan at the lake,and in the colder months between December and March, Teganuma is the winter home for a variety of ducks.
Diving ducks include Smew, Common Pochard, Tufted Duck and Common Goldeneye, and dabbling ducks, other than the numerous and always-present Mallard and Eastern Spot-billed Duck, include Eurasian Teal, Northern Pintail and Eurasian Wigeon. There is always a chance, if you carefully check the flocks of teal, of finding a Baikal Teal.
Unusual birds that have been seen at Teganuma include Lesser Frigatebird, Chinese Pond Heron, Ruddy-breasted Crake and Chinese Grosbeak.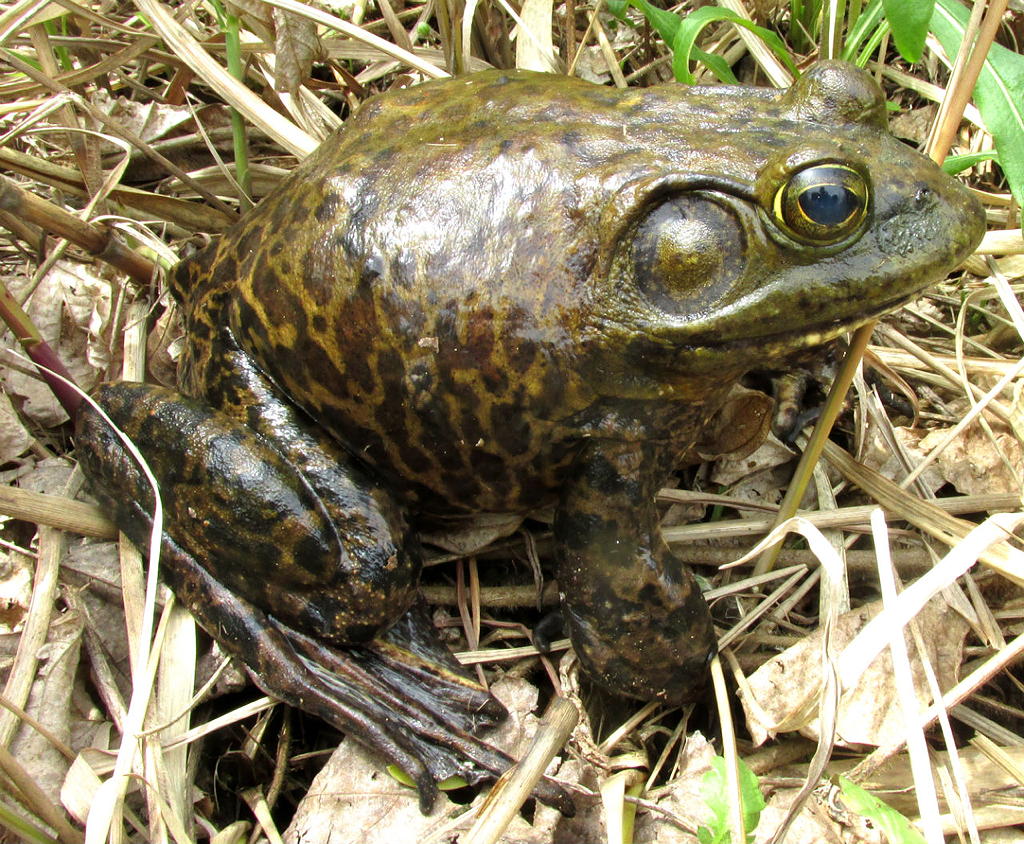 From Abiko Station (Joban Line) walk about 30 minutes to Teganuma Park (手賀沼 公園)and then walk east along the north side of the lake to Tega-ohashi bridge(手賀大橋). From the bridge, continue walking along the cycle/jogging path to Katayama Shinden, at the east end of the lake, before returning. Another route is to walk about 20 minutes south from Tennodai Station to Hachiman Shrine/Konoyama Shinden, and then check the areas on both the west and east side of the small park on the water's edge. From this area, It is a pleasant walk (in nice weather!) right to the east end of the lake, where you can check the rice paddies.
Toilets and parking facilities available at: 35.861459, 140.043234
---
Yatsu-higata (Yatsu Mudflats), Narashino City 南船橋谷津干潟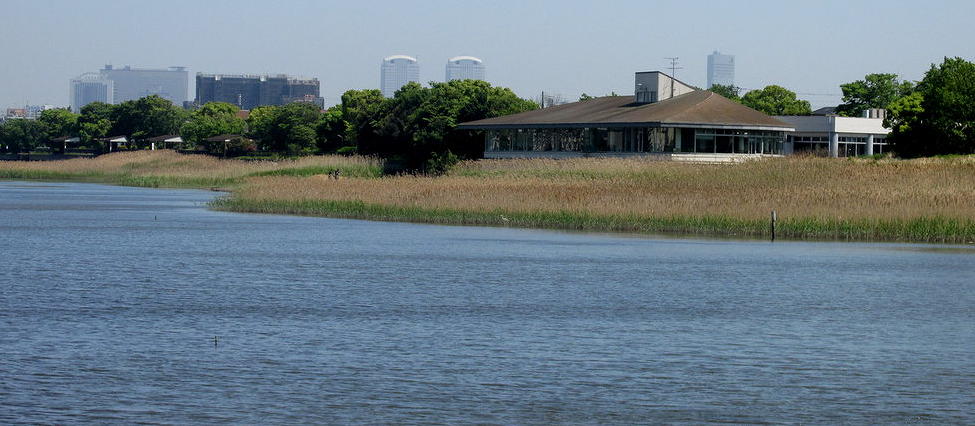 Yatsu-higata (Yatsu Tidal Wetland) is one of the best known sites for shorebird watching in the Tokyo area. Many species of wader on the Japanese list have appeared here, although regular visits throughout the migration seasons are required to see the full range of species that drop by. One of the most common is the Grey-tailed Tattler.
To reach Yatsu-higata take the Keiyo Line train from Tokyo station and get off at Minami-funabashi Station (30 minutes on a local train), then it is a 15-minute walk. Check tide times before you go (monthly tide tables are at the link at the end of this article).
To give yourself the best chance, time your arrival for about two hours before high tide; when the tide rises it pushes the waders closer to the pathway which encircles the area. The best areas to watch then are between the visitor centre and the bridge, and along the east side by the high school.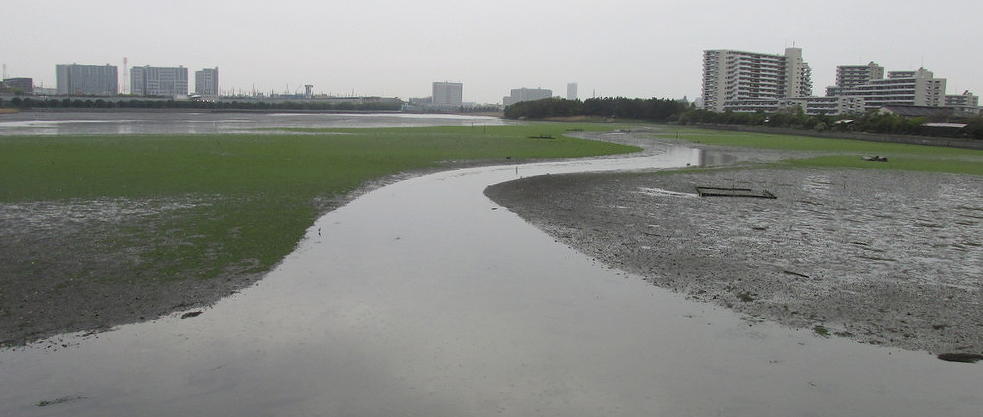 One quirk about Yatsu-higata is that the tides here are about 1.5 hours later than in Tokyo Bay. So, if the high tide is indicated, for example, for 12:00 in Tokyo Bay, then it will not be until 13:30 at Yatsu-higata (not taking into account spring tides and other tidal oddities!).
For spring migration from mid-April to mid-May are best, while in autumn from mid-August to mid-September offer a good range of species.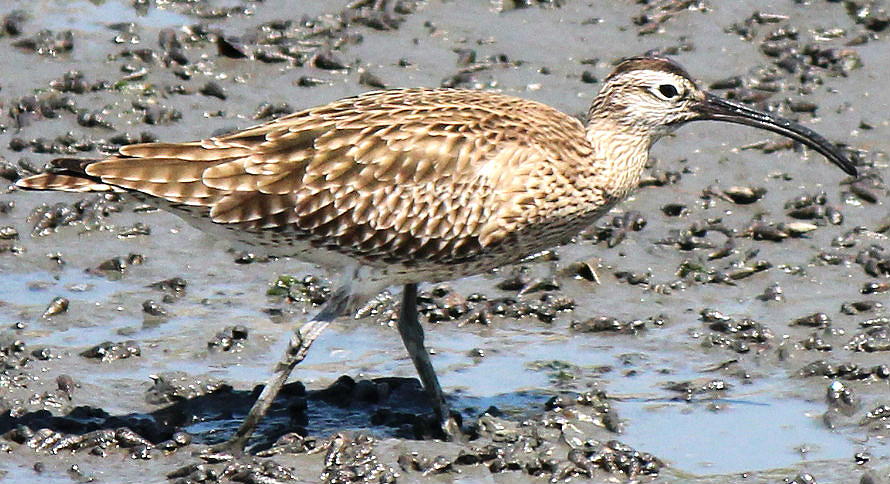 Frequently seen species include: Whimbrel, Grey-tailed Tattler, Ruddy Turnstone, Eastern Black-tailed Godwit, Red-necked Stint and Great Knot. Saunders's Gull is sometimes present during winter.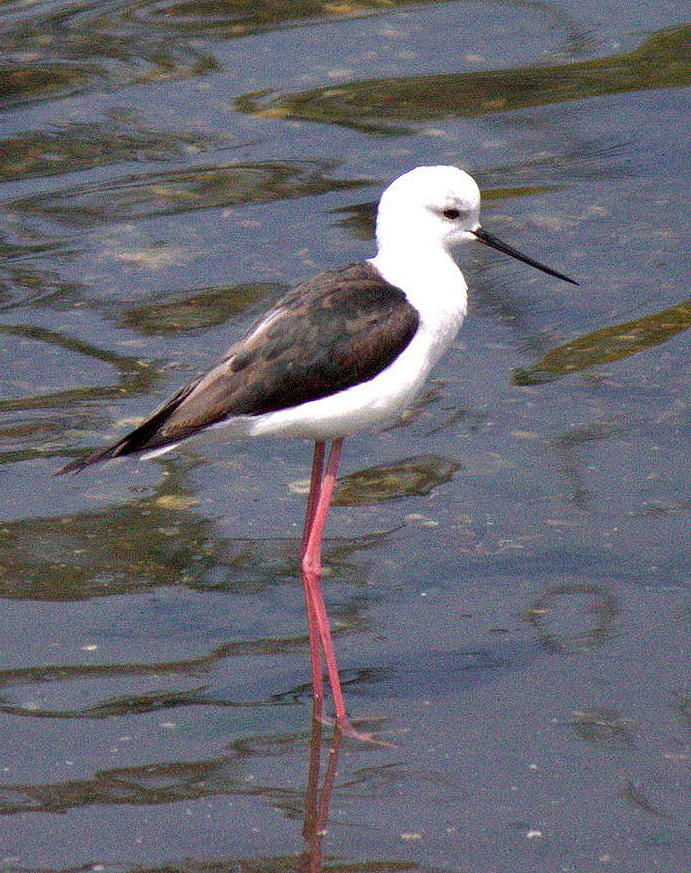 Black-winged Stilt usually breed by the visitor centre pond and a few birds are usually somewhere to be seen. usually somewhere to be seen.
Common Greenshank, Common Redshank, Far Eastern Curlew and Little Ringed Plover are regular but only in small numbers.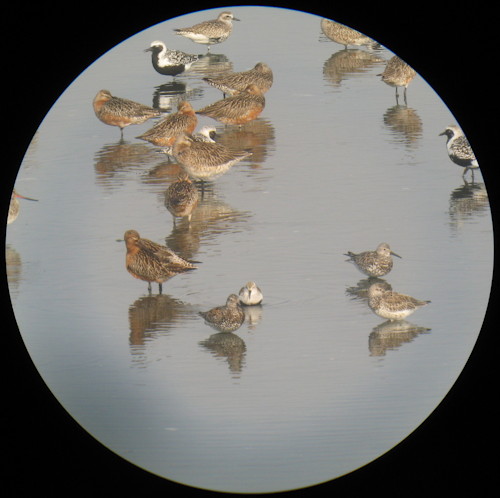 Rarities or unusual shorebirds that have dropped in at Yatsu-higata have included Common Ringed Plover, Temminck's Stint, Greater Sand Plover, Spoon-billed Sandpiper, Sharp-tailed Sandpiper, Terek Sandpiper and Grey Phalarope.
In the trees or parks nearby Azure-winged Magpie is resident, Oriental Reed Warbler breeds in the small area of reeds by the visitor centre in the summer months, and occasionally migrants such as flycatchers and warblers turn up.
During the winter months, there are fewer shorebirds – mostly Grey Plover and Northern Dunlin – but larger numbers of ducks, including Eurasian Wigeon, Eurasian Teal, Eastern Spot-billed Duck, Northern Shoveler and Greater Scaup.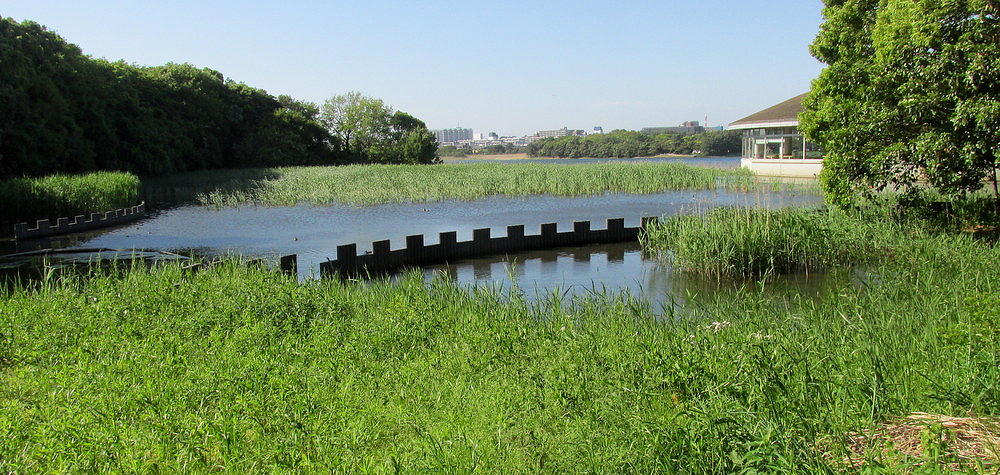 With such an abundant food supply, a Peregrine Falcon often hunts in the area.
As the tide comes in, you can often see Red Stingray gliding into Yatsu-higata, especially at the bridge near the visitor centre or in the channel on the east side, near Chibakenritsu-Tsudanumakotogakko high school.
Access: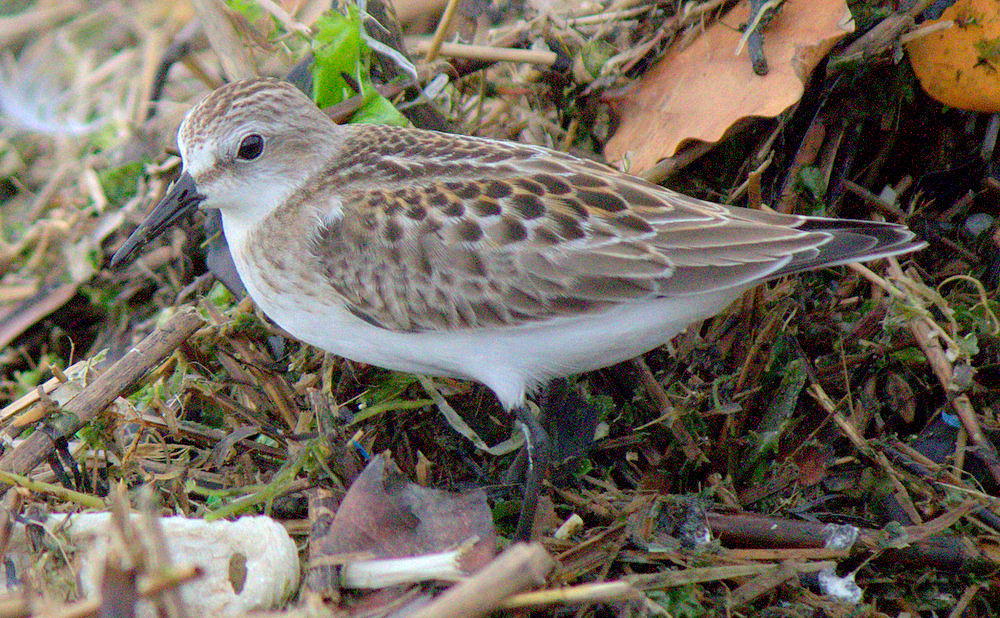 By train 1: Take the Keiyo Line from Tokyo Station and get off at Minami-Funabashi Station (about 30 minutes by local train). From there it is about a 15-minute walk to the west end of Yatsu-higata.
By train 2: Take the Musashino Line from Fuchuhonmachi Station in west Tokyo via Nishi-Funabashi. Get off at Minami-Funabashi Station, two stops before its terminus at Kaihim-Makuhari Station.
By train 3: Take the Keisei Line from Ueno Station in Tokyo and get off at Yatsu Station in Narashino City. It is about a 15-minute walk to the east end of Yatsu-higata.
Yatsu-higata Visitor Centre: Map 35.675621, 140.005284; Tel: 0474-54-8416 (Japanese only).
Tide Table for Funabashi (add 1.5 hours for Yatsu-higata).
Toilet facilities are available at the stations or next to the entrance to the visitor centre, and there is also a convenience store near the high school at the east end. Limited parking is available at or close to Yatsu-higata.
---
© 2021 Mark Brazil & Chris Cook
Last updated: 20210605