Japan Nature Guides Tours: At Home and Abroad
At JNG we specialise in planning and implementing a diverse array of tours of Japan. However, we also travel widely in search of wildlife and cultural experiences ourselves and we are always looking for new destinations.
Mark has been engaged for many years in a busy schedule of international tours for Zegrahm Expeditions, but is trading in overseas time for more time in Japan. Mark also leads tours for Expedition Easy, Africa Easy and Japan Nature Guides, and works for Lindblad Expeditions and Seabourn.
In past years Mark and Mayumi have led co-led several mostly in-depth cultural tours of Japan (Sacred Traditions Japan Revealed) in autumn and wildlife-oriented tours of Hokkaido in summer (Kamuy Mintara) for Expedition Easy.
With successful tours to Uganda and to Zambia and Rwanda in the past we plan to return to Uganda and Zambia in 2023! These African expeditions provide a fantastic introduction to the megafauna of this exciting region and our main targets will be chimpanzee, gorilla, shoebill stork and a host of other mammal and bird species. Why not come and join us?
---
Birding, Photography, Mammal watching, and Frog watching
At JNG we tailor itineraries to suit the particular interests of our clients. Whether you are a television or radio producer, a wildlife photographer or a general naturalist, a novice or a keen birder, a mammal watcher or keen to find reptiles and amphibians, we can design a unique itinerary for you.
Perhaps you are visiting Japan on business or attending a conference and have just a day or a weekend to spare for birding in Tokyo, Osaka or Sapporo; let us know and we can put together an itinerary just for you.
Itineraries may range in length from a half or single day to one-, two- or three-week trips; they may be focussed around one city, one island or cover the length of Japan – all depending on your needs.
We provide the guides, and work closely with local travel agents to make your bookings.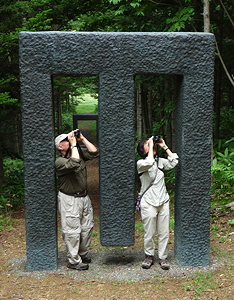 In tailoring tours we not only focus specially on your target species, your photography, or introduce you to the basics of birding, but we can also accommodate your other interests, whether those are interests are birds & hotsprings, birds & mountains, or birds & art.
Here visitors Larry and Yurika Geffin enjoy birding in the grounds of Arte Piazza Bibai, Hokkaido, where Kan Yasuda's monumental sculptures are presented in a wonderful natural setting complete with woodpeckers, flycatchers and squirrels.
---
Japan's Calendar of Highlights
In each month of the year, there are places of interest to go birding in Japan, so whether you are visiting Japan specifically for birds, or here to attend a conference or on a business trip, birding is always possible, for a day, for a weekend or for longer.
November to March: Kyushu, Honshu and Hokkaido for all the key wintering species including cranes, waterfowl and raptors.
February, March and April: The Izu Islands (especially Miyake-jima and Hachijo-jima by ferry for seabirds, especially albatrosses including Short-tailed Albatross); The Nansei Shoto for endemic residents including Okinawa Rail and Pryer's Woodpecker.
May and June: Islands in the Sea of Japan for northbound spring migrants; Izu Islands for endemic residents and summer visitors, including: Ijima's Warbler and Pleske's Warbler; The Nansei Shoto especially Okinawa and Amami for endemic residents and summer visitors, but also Miyako-jima for local specialities such as: Slaty-legged Crake.
July and August: hiking in the Japan Alps for montane species including Japanese Accentor, Alpine Accentor and Rock Ptarmigan, with chances of Japanese Serow and Asiatic Black Bear, or in the mountains of Hokkaido for alpine flowers, Spotted Nutcracker, Japanese Accentor and Pine Grosbeak.
September and October: Islands in the Sea of Japan for southbound migrants; Hokkaido; central Honshu.
November and December: The Nansei Shoto for endemic residents and rare migrants.
---
Japan Nature Guide's Recommended Short Birding Tours
1, 2, and 3 day tours based in Tokyo.
3-day tour of the Izu Islands for seabirds and endemic land birds.
4-5 day winter tour to southern Kyushu for a wide range of species including wintering cranes.
4-5 day waterfowl special (October only) visiting north and east Hokkaido for: Taiga Bean Goose, Tundra Bean Goose, Greater White-fronted Goose, Lesser White-fronted Goose, Snow Goose, Brent Goose, Whooper Swan and Bewick's (Tundra) Swan.
5-6 day winter tour of east Hokkaido.
5-6 day summer tour of east Hokkaido.
6-day tour of the Ryukyu Islands (Okinawa and Amami Oshima) for the central and northern endemics.
7-day tour of the Nansei Shoto (Yaeyama, Okinawa and Amami Oshima) for the southern, central and northern endemics.
---
© 2022 Mark Brazil & Chris Cook
Last updated: 20220117