Cape Irago (Irago Misaki), Aichi Prefecture 伊良湖岬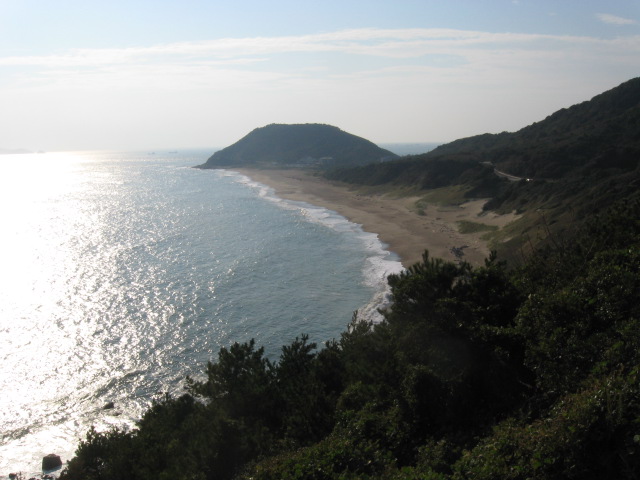 This cape, at the end of the Atsumi Peninsula, southwest of Toyohashi City in Aichi Prefecture, is well-known for hawk migration during late September and early October. The best time for watching the Grey-faced Buzzard migration is during the the last week of September or the first two weeks of October, but movements are dependent on wind direction and weather patterns.
On a good day hundreds of Grey-faced Buzzards can pass over. Mixed in with these there are often smaller numbers of Oriental Honey Buzzards and a variety of other raptors, including Japanese Lesser, Chinese (scarce) and Eurasian Sparrowhawks, Northern Goshawk, Hobby, Peregrine Falcon and the occasional Osprey or Eastern Buzzard.
Things often do not get going until mid-morning, but it depends on the weather and wind direction/speed. On a clear day, birds passing overhead at the car park are often very high up, sometimes mere dots in the blue sky. But on other days, when cloud cover is extensive, they may be much lower. By lunchtime, most of the action is over, but birds can pass through during the afternoon as well if the weather is conducive to migration.
The best place to observe the migration is from the car park at Kojiga Beach (Kojigahama: 34.580859, 137.021644). Birds can also sometimes be seen passing high over the sea to the southeast of the car park. Another good place to observe hawk migration is from the roof of the Irako View Hotel, perched in a prominent position on the hill overlooking Cape Irago and Kojigahama beach.
During the peak of the migration season local birdwatchers carry out detailed counts of the birds as they fly overhead.
Offshore, there are usually large numbers of Streaked Shearwaters milling around in the busy shipping lane, and Japanese Cormorants can be seen perched on the rocks just offshore.
Passerines also use Irago as a migration point, and large numbers of Brown-eared Bulbuls, Japanese White-eyes and White (Black-backed) Wagtails pass through in good weather, as well as Ashy Minivets, warblers and flycatchers. Wryneck has been recorded near the car park.
A sea-level promenade provides an opportunity to walk from the car park around the tip of the cape, past the lighthouse and as far as the ferry port area before returning via the higher pathway or following the road back to the car park.
Accommodation & Food
Irago View Hotel 〒441-3623 愛知県田原市日出町骨山1460-36
Tel: 0531-35-6111 FAX: 0531-35-1267
http://www.viewhotels.co.jp/irako/
Five-star accommodation! Fantastic views over the surrounding sea and farmland, and on Saturday/Sunday/public holidays a sumptuous buffet lunch is available.
Ryugo Hotel. Reasonably priced hotel with seafood cuisine and hot spring about a 10-minute walk from Kojigahama car park (34.584866, 137.025345).
http://www.ryugu.org/index.html
Tel: 0531-35-6525
There are other places nearby, including Minshuku Maruei (0531-35-1390). Rooms in hotels/minshuku close to Cape Irago are likely to be in short supply during the peak migration season, so book ahead.
Beside Kojigahama car park there are several restaurants serving large grilled clams and local fish. Toilets are available at the car park.
There is also a restaurant/gift shop/toilets at the nearby Isewan ferry port/Michi no Eki rest area https://www.aichi-now.jp/en/spots/detail/218/.
Tourist Information and Transportation
Tourist Information:
Toyohashi City tourist information center can be contacted at 0532-54-1484 or at Toyohashi Information Plaza (Toyohashi Joho Puraza) inside Toyohashi Station (0532-33-9531).
Bullet Train (Shinkansen):
The Tokaido Shinkansen from Tokyo/Yokohama or Osaka/Nagoya stops at Toyohashi Station.
Bus:
Toyotetsu Bus from Toyohashi Station bus terminal Stand #2 to Irago Misaki
https://www.toyotetsu.jp/station/1/P1/?bus=on
From Irago Misaki ferry port/Michi no eki to Tahara Station or Toyohashi Station bus terminal:
https://www.toyotetsu.jp/station/599/P2/?bus=on
Overnight bus (Tokyo to Toyohashi/Tahara; Tahara/Toyohashi to Tokyo):
https://www.kanto-bus.co.jp/english/nightway/honokuni.html
The Honokuni bus to Toyohashi and Tahara departs from Busta Shinjuku at 2355, arriving at Toyohashi Station and on to Tahara early the following morning. It also departs from Nerima/Nakano stations before arriving at Shinjuku. Reservations required.
Rental Vehicle:
There is one 24-hour car rental company in Toyohashi: Japan Rent-a-Car at Ogisato (Omura-cho).
A valid Japanese driver's license or an International Driver's Permit is required to rent a vehicle.
http://www.j-rentacar.com/store/toyohashi.php,
Tel: 0532-56-0030 (Japanese language only)
---
© 2021 Mark Brazil & Chris Cook
Last updated: 20210220