Kyushu
Kyushu is Japan's southernmost "main" island and offers a wide range of birding opportunities. Miyazaki Prefecture extends down the southeast coast of the island and inland towards the Kirishima volcanic range of mountains.
Cape Hyuga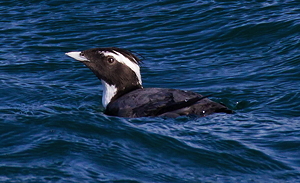 The rocky coastline just south of Hyuga City is a good place to look for Japanese Murrelet, and they can often be seen in the bay near the small island in Hososhima Town. The area is reached by taking the road signposted to Hyuga-misaki. At the top, near the lighthouse, is a small cafe in a car park. From here, a trail goes to the headland (about a 15-minute walk) to Kuroda no Kashin (32.424688, 131.680552.) Right at the tip it is possible to look down onto the sea and with the aid of a telescope the small murrelets can often be seen flying by or floating on the water.
Below the headland, just across a narrow sandbar from the car park/toilet block, is a small island with a shrine on. From this island (or from the car park) murrelets can often be seen as they feed close by, especially in rough weather when the bay is calmer. This place is called Kurodano Kashin in Japanese.
Another location to look for Japanese Murrelet is in Kadogawa Harbour, on the north side of Hyuga City. If you park by the boat yard at the north end of the harbour, you can walk out to the "elbow" of the dog-leg shape concrete breakwater and then 'scope the bay in front of you
The murrelets breed on nearby Birojima and late winter and early spring is the best time to see them when they return to breed.
While at Hososhima and also at Cape Hyuga keep a look out for Japanese Woodpigeon – they are in the area. Other birds include: Japanese Cormorants, Osprey, Eastern Reef Egret and Little Egret, lots of Pale Thrush and Daurian Redstart during the winter, and a healthy population of the now established Red-billed Leiothrix.
Hitotsugawa
Hitotsugawa Estuary, located to the north of Miyazaki City, is a good place for Black-faced Spoonbills during the winter, as well as various shorebirds and egrets. Offshore there is a good chance of seeing Japanese Murrelet if the sea is calm.
Miike
This caldera lake on the flank of Mt Takachihomine, and on the border with Kagoshima Prefecture, has a number of interesting forest trails, including one that loops around the circumference of the lake. During winter it frequently has flocks of waterfowl including Eurasian Wigeon, Northern Pintail and occasional Baikal Teal. The forest has most of the resident species of southwestern Kyushu including Japanese Woodpecker and Ryukyu Minivet, and in the past was a regular summer site for Fairy Pitta, though the over-zealous attentions of amateur photographers seem to have driven these away now.
© 2018 Mark Brazil & Chris Cook
Last updated: 20181224