Kyushu
Japan's southernmost "main" island. Most famous for its wintering cranes at Arasaki, Kagoshima Prefecture, but rich in many other southern species during winter and summer and exciting for its migratory birds during spring and autumn. A major migration of birds of prey passes through the islands; some of the islands associated with Kyushu to the west, northwest and south receive many exciting East Asian migrants and vagrants.
Preliminary information only is listed here:
Arasaki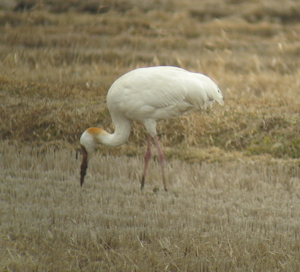 The area of Arasaki, in Izumi City, southwest Kyushu is best known worldwide for its winter gathering of upto 17,000 cranes, consisting largely of Hooded Crane, with lesser numbers of White-naped Crane, and small but annual numbers of Sandhill Crane and Common Crane, Arasaki is one of the best winter birding areas in Japan.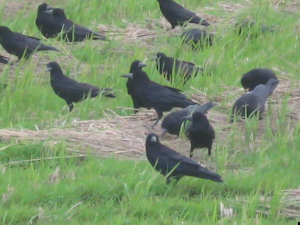 Regulars in the area include Eastern Rook, Daurian Jackdaw, starling flocks that occasionally include Common Starling or Red-billed Starling, buntings, Russet Sparrow, thrushes, waxwings and grosbeaks.
Rarities appear most winters, sometimes other cranes such as Siberian Crane or Demoiselle Crane, but also other waterfowl such as geese, swans, and gulls and raptors appear regularly.

Takae
Takae village's claim to fame is the fact that for about 15 years, from the mid-'90s until 2012, a single Greater Spotted Eagle returned to the area each winter. The area where the bird was usually seen was on the south side of the village. It was often located by it's dog-like barking call as it soared in the sky, perched atop a line of telegraph poles running east to west through the centre of the paddies, or as it sat on top of coniferous trees on the low hills immediately to the south side of the large open area of rice paddies. Observers seeking this bird quickly discovered that the area was rich in other raptors, and held many wintering buntings making it well-worth visiting even in the absence of the eagle.
It is the best area in which to look for wintering raptors in southwest Kyushu, apart perhaps for the area of the crane flock at Arasaki.
Other birds that have been seen include: Oriental White Stork (accidental), Hen Harrier, Osprey and Eurasian Woodcock. Passerines include several species of buntings: Siberian Meadow, Chestnut-eared, Black-faced, Common Reed and Rustic among them, Russet Sparrow, and both Buff-bellied and Red-throated pipits. Also, Chinese Penduline Tit can sometimes be seen in the reedy area that covers the western part of the area, and Crested Kingisher (occasionally) and Common Kingfisher (often) can be seen along the concreted canal that runs through the centre.
Akune
Just south of Akune town, along Route 3, is Akune Michi no Eki (rest area/toilets) perched on a bluff directly above the sea. From the car park it is possible, with patience, and a telescope, to see Brown Booby, Eastern Reef Egret and Japanese Murrelet, and there are normally Blue Rock Thrushes nearby.
Kogawa Dam, near Izumi
Within an easy drive of the Arasaki crane area, and offering a pleasant change of habitat and species, is the forested basin of Kogawa Dam. About 15 km east of Izumi on Route 447. In Kogawa village, turn right at gas stand when coming from Izumi. About 100 meters from the junction, down a short slope, is a small bridge. Stop here to look for Crested Kingfisher, and in the nearby forest Japanese Green Woodpecker are resident. Also on the river, Mandarin Duck, Brown Dipper and Japanese Wagtail can be seen.
There is a road which goes all the way around the lake, and during the winter there are sometimes large numbers of Mandarin Duck, and in the forest, a variety of birds including Japanese Green Woodpecker, White-bellied (Japanese) Green Pigeon, Ryukyu Minivet, and also Elegant, Siberian Meadow, Rustic, Grey and Black-faced buntings. Along the roadside look out for Daurian Redstart, Red-flanked Bluetail and Bull-headed Shrike, and from any of the bridges, check for Crested Kingfishers sitting on dead trees, waiting to catch fish.
It is likely that Mountain Hawk Eagle and Copper Pheasant are in the area.
© 2016 Mark Brazil & Chris Cook
Last updated: 20160112