Mammals of Japan Lite App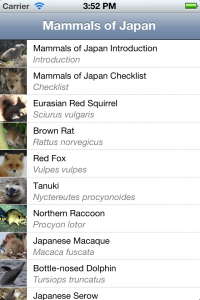 Mammals of Japan Lite is a free App available available for downloading from the Apple iTunes store.

The Japanese archipelago has a surprisingly rich diversity of mammals ranging from bears, deer and foxes to serows, cetaceans, and seals. The mammal fauna includes endemic, indigenous, and introduced aliens species.
In the Apps 'Lite' version, a selection of these species is introduced, along with an introduction providing an overview of the mammal fauna. It also has an up-to-date complete Checklist of the Mammals of Japan.
In the full version, which will be released later, 50 species will be included and thereafter further species will be added.