Kaz Shinoda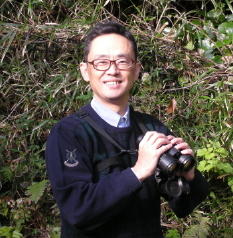 Kaz Shinoda is a full-time guide and integrally involved in Japan Nature Guides logistics and planning. He was born in Yokohama, Japan, in 1957.
From the age of 11 to 14 he lived in South Africa with his family, and often went on safari where he learned about the fascinating world of wildlife first hand. He later became a birdwatcher, and has now been a keen birder for nearly twenty years, and has travelled throughout Japan in search of birds.

Kaz graduated from Waseda University in Tokyo, then taught English to high school students for more than two decades before dedicating himself to guiding visiting birders in the Tokyo area and around Japan.

As a birding guide with more than a decade's experience he has led birders throughout the Japanese Archipelago. As a nationally licensed English-speaking Tour Guide, Kaz is knowledgeable not only about birding in Japan, but also about Japanese geography, history, and especially culture, important subjects that help enhance a birding trip to this culturally unique country.

Kaz lives near Tokyo, the ideal starting point for a birding tour of Japan, or for a few days birding linked to business visits to the capital. He frequently guides individuals and small groups of visiting birders in the Tokyo area on day trips and is also available for longer birding excursions. His guiding experience has taken him throughout the country from Hokkaido to Okinawa and many places in between including: Tobishima, Hachijo-jima, Kyushu, and Amami.

Kaz's considerable organizational and logistical skills are key to the success of our well-planned itineraries, while his philosophy, of giving clients an enjoyable and rewarding birding experience amongst friends in Japan, make him an extremely popular guide.
Testimonials from recent travellers with Kaz:
"Kaz Shinoda was my bird guide for a day when I visited Tokyo. Between dawn and dusk we visited the beach at Oiso, a nearby river, Mount Fuji and Lake Yamanakako. He did very well to find target species at each location and there were some real highlights such as very close views of Red-flanked Bluetail on Mount Fuji and of Narcissus Flycatcher and Japanese Woodpecker at a spring near the lake. Organisation, planning and transportation were excellent. As a former teacher of English, Kaz speaks the language extremely well, so communication was perfect. He is also responsive to clients' requests, determined to find the key species and well able to identify them by sight or sound. I would not hesitate to use Kaz's services again if I have the opportunity to explore Japan's fascinating bird life again."
May 13, 2012 / Mount Fuji, Peter Andrews, UK
"I had a good day birding with Kaz. He is amenable to suggestions, is easy to deal with, and tries hard to get the birds that people want. I recommend that anyone interested in Japanese birds contact Kaz."
April 13, 2012 / The Yokohama area, Robin Doughty, Austin, Texas, USA
"I had an excellent three-plus days of birding with Kaz Shinoda in January 2012. Kaz guided myself and another birder to a wide variety of sites, including following up on current rarities, and we saw a diverse list of birds. Kaz is a highly skilled birder, knows Japan's birds very well, speaks English fluently, and is a very safe driver. We had full days of birding, but still enough time at the end of each day to relax and enjoy our travel experience. The trip was well planned and executed, and I look forward to birding with him again soon."
January 22 - 25, 2012 / Tanzawa-ko, Yokohama, Choshi, & the Narita area, Bob Sundstrom, Tenino, WA, USA