Publications
Japan Nature Guides produces books, digital and online guides, including:
The Mammals of Japan First in a new series of pocket guides. By Mark Brazil and Yabuuchi Masayuki.
The Nature of Japan: From Dancing Cranes to Flying Fish A collection of essays on the natural history of the Japanese archipelago by Mark Brazil with black and white drawings throughout by Masuda Hisashi. Published in 2014.
The continually expanding A Birdwatcher's Guide to Japan Online by Mark Brazil and Chris Cook.
Mammals of Japan

Lite

App for the iPhone/iPad by Mark Brazil.
A Birdwatcher's Guide to Japan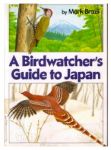 A Birdwatcher's Guide to Japan by Mark Brazil was published in 1987 by Kodansha International in cooperation with The Wild Bird Society of Japan. It covers a selection of the best birdwatching sites from Okinawa to Hokkaido, provides information on how to get there, where to stay and provides lists of key species of both birds and mammals to look out for.

Long out of print, it has become a collector's item, yet much that it contains remains accurate and it continues to be used regularly by birders visiting Japan independently.

Mark still has a few signed copies available. If you would like to purchase one for your library contact JNG.
Mammals of Japan Lite
Currently not available, while a sponsor is sought.

This iPhone App by Mark Brazil is available for download from iTunes. It introduces the mammal fauna of Japan, provides a complete checklist of species found in the archipelago and provides information on a select sample of species.

The Japanese archipelago has a surprisingly rich diversity of mammals ranging from bears, deer and foxes to serows, cetaceans, and seals. The mammal fauna includes endemic, indigenous, and introduced aliens species. In the 'Lite' version, a selection of these species is introduced, along with an overview of the mammal fauna and a complete, up-to-date checklist. In the full version, which will be released later, 50 species will be included and thereafter further species will be added.
The Nature of Japan: From Dancing Cranes to Flying Fish
This collection of Mark's essays published over the last 30 years and edited and updated for the 21st century, provides an overview of the natural history of Japan throughout the year. Illustrated with line drawings by Hisashi Masuda.

Published on 7 November 2013, it was initially produced through crowd-sourced sponsorship. If you are interested in obtaining a copy now that is has become openly available, drop a line to: mayumibrazil@japannatureguides.com.
© 2015 Mark Brazil & Chris Cook
Last updated: 20150330